Disclaimer: This review is my own opinion, I am in no way affiliated with this company in any shape or form.

HMBradley is an online-only fintech that pays up 3% APY after savings 20% of your direct deposits


Update: HMBradley recently change its requirements. The 3% rate is only for their credit cardholders who spend $100 per month and get a $2,500 direct deposit each month.

Pros & Cons

PROS
CONS

✔

High interest rate (Up to 3% APY)
X Only earn interest up to $100,000

✔

No minimum balance

X

No physical locations

✔

No monthly fees
X Must receive direct deposits to earn interest

Who Should Use HMBradley?
HMBradley is a good option if:
Those of have access to direct deposit
Able to save a high percentage of their income (20% or more)
Comfortable with digital-only bank
HMBradley is not good if:
You do not have access to direct deposits
You like having the ability to walk into a physical location
Have trouble saving a high percentage of your paycheck
What is HMBradley?
HMBradley is a fintech company that offers a digital-only banking experience. This innovative company rewards customers with an APY between 1% and 3% depending on how much the account holder saves each quarter.
The company was co-founded by Zach Bruhnke, who is also the CEO, Dmitry Gritskevich, and Germain Cassiere.
Never, heard of them? Me neither.
But the company is backed by heavy hitters such as PayPal Cofounder Max Levchin.
Anyway…
Their mission is to turn customers into savers by giving you the resources and incentives to save (3% APY). This is a great option if you are looking to start an emergency savings account.
[Update] HMBradley recently moved to an invite-only model due to overwhelming demand. Deposits have increased 3 fold since the start of 2021. The company will remain invite-only until it establishes more banking partners and has not communicated when that might be.
You will be able to join HMBradley if you receive a referral from an existing member (Up to 3 referrals per member). Feel free to leave referrals in the comments.
Is HMBradley Legit?
Hatch Bank, Member FDIC, provides all deposit accounts. So, yes, HMBradley is legit.
I am always a bit skeptical about these new Fintech companies as well. For peace of mind, you can check out Hatch Bank's FDIC Certification. Additionally, you can also check that the routing number HMBradley gives you links up to Hatch Bank, See Below: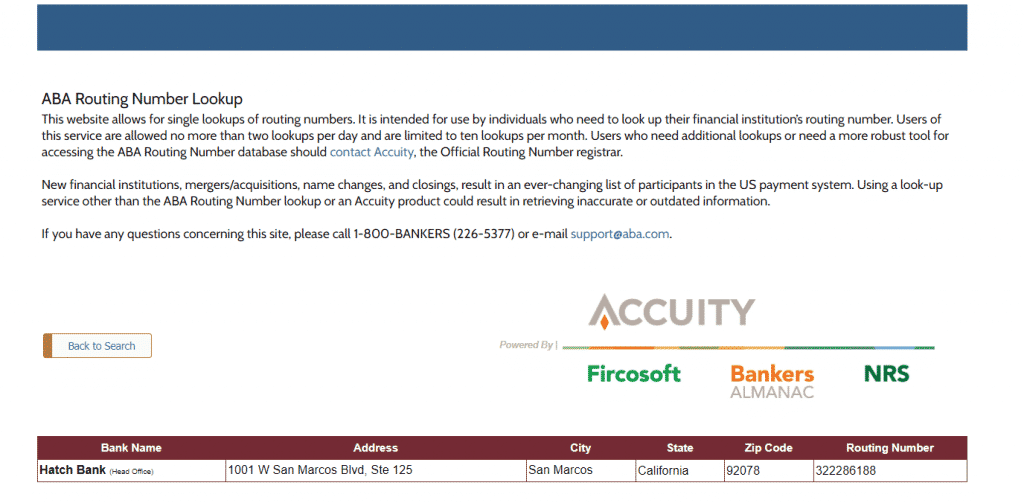 How Do I Earn 3% Interest?
If you save at least 20% of what you bring in (less withdraws), you will earn the 3% annual percentage yield for that quarter, 60X the national average, according to bankrate.com. The higher the interest rate, the more money goes into your pocket.
High-Yield Savings Tiers
Tier 1) Save 20%, Earn 3% APY
Tier 2) Save 15%, Earn 2% APY
Tier 3) Save 10%, Earn 1% APY
Tier 4) Save 5%, Earn 1% APY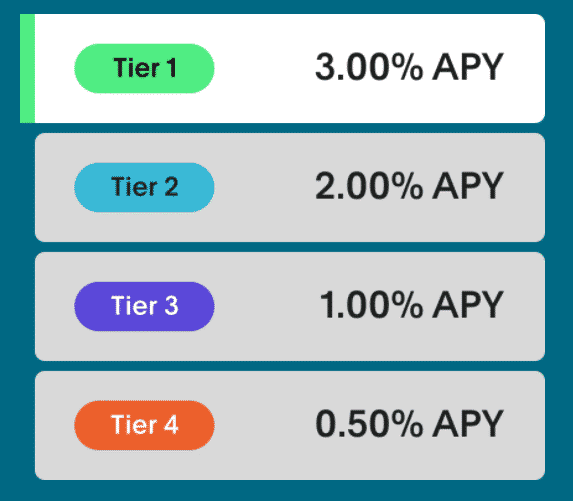 Step-by-Step Process
Set up your direct deposit ( Not a Venmo or PayPal transfer).
You start in Tier 3 (Save 10% and you can start working towards a higher savings tier).
HMBradley calculates your saving percentage at the end of the quarter and awards your new Savings Tier. Your entire balance will earn your new interest rate for the next 3 months (Quarter=3 months).
A Real-Life Example of how HMBradley's savings account works
| | |
| --- | --- |
| Date | May 2021 -July 2021 (Quarter 1) |
| Total Deposits | $10,000 |
| Total Withdraws | $8,000 |
| Savings | $2,000 |
| Savings Rate | 20% |
| Savings Tier Earned | Tier 1, Earn 3% APY the Following Quarter |
You saved 20% in Quarter 1, so in Quarter 2 (August – October), you will earn 3% APY.
The Fine Print
At least one monthly direct deposit is required to eligible for a Savings Tier.
The company subtracts all your money out (withdrawals) during the quarter from all your money in (deposits). The company takes this net amount and divides it by all your money in (deposits) for the quarter to arrive at a savings rate.
If your savings rate is less than 5%, you will not be assigned a Savings Tier the following quarter.
No interest paid on account balances over $100,000. New accounts with a direct deposit will earn a tier no lower than Tier 3 (1% APY) for the first calendar quarter after opening an account.
$100 minimum to open.
Interest is compounded daily and paid monthly.
What Security Features Does HMBradley Offer?
As with any new company, I'm always skeptical of putting my money somewhere I haven't heard of either. Rest assured, the firm follows industry-wide best practices.
FDIC Insured
Hatch Bank, Member FDIC, insures all deposit accounts up to $250,000 per depositor. Hatch Bank's FDIC Certification
Zero Liability Protection
Mastercard's Zero Liability Protection protects the HMBradley debit card. This means that as a Mastercard cardholder, Zero Liability is applicable when you make purchases in-store, over the phone, through your mobile phone, and through ATM transactions.

Industry Standard Data Encryption
HMBradley adheres to industry standards when it comes to data encryption and card control. You are able to easily turn off your card and set up fraud alerts online.
Additional Features
No minimum opening deposit required
1 overdraft fee per day
No monthly fees
No out-of-network ATM fees at 55,000 Star and Money Pass ATMs
BONUS if you open an HMBradley Credit Card
If you open an HMBradley credit card and spend at least $100 each month, they will upgrade you to the next savings account Tier in the next quarter. So if you are in Tier 2, and you meet the credit card spend requirements, they will upgrade you to Tier 1 the following quarter.
In addition, HMBradley offers 3% cashback on your largest spending category for a given month, 2% on your second largest spending category, and 1% for everything else. P.S. Restrictions Apply, so be sure to read the fine print.
Alternatives To HMBradley
There seems to be an endless number of "high yield" savings account popping up. There are quite a few alternatives to HMBradley available:
Porte
Marcus by Goldman Sachs
Ally
T-Mobile Money
The Bottom Line
If you can meet the requirements, 3% APY is one of the highest rates around in the High-Yield Savings Account space. With most high-yield savings account paying only around 0.50%, it's worth opening an account. Yes, you need to jump through a few hoops, but obviously, that's the reason they are offering 3% APY because not everyone will meet the requirements.
Definitely a great way to encourage saving. Additionally, even if you only save 5% of your deposits, you earn 1% APY, which is the highest rate I've seen. Will this rate stay around forever? Who knows, but might as well take advantage of the offer while you can.
Cheers,