In this CrowdStreet vs. Fundrise review, we will compare two popular real estate crowdfunding platforms and help you decide which investment platform is right for you.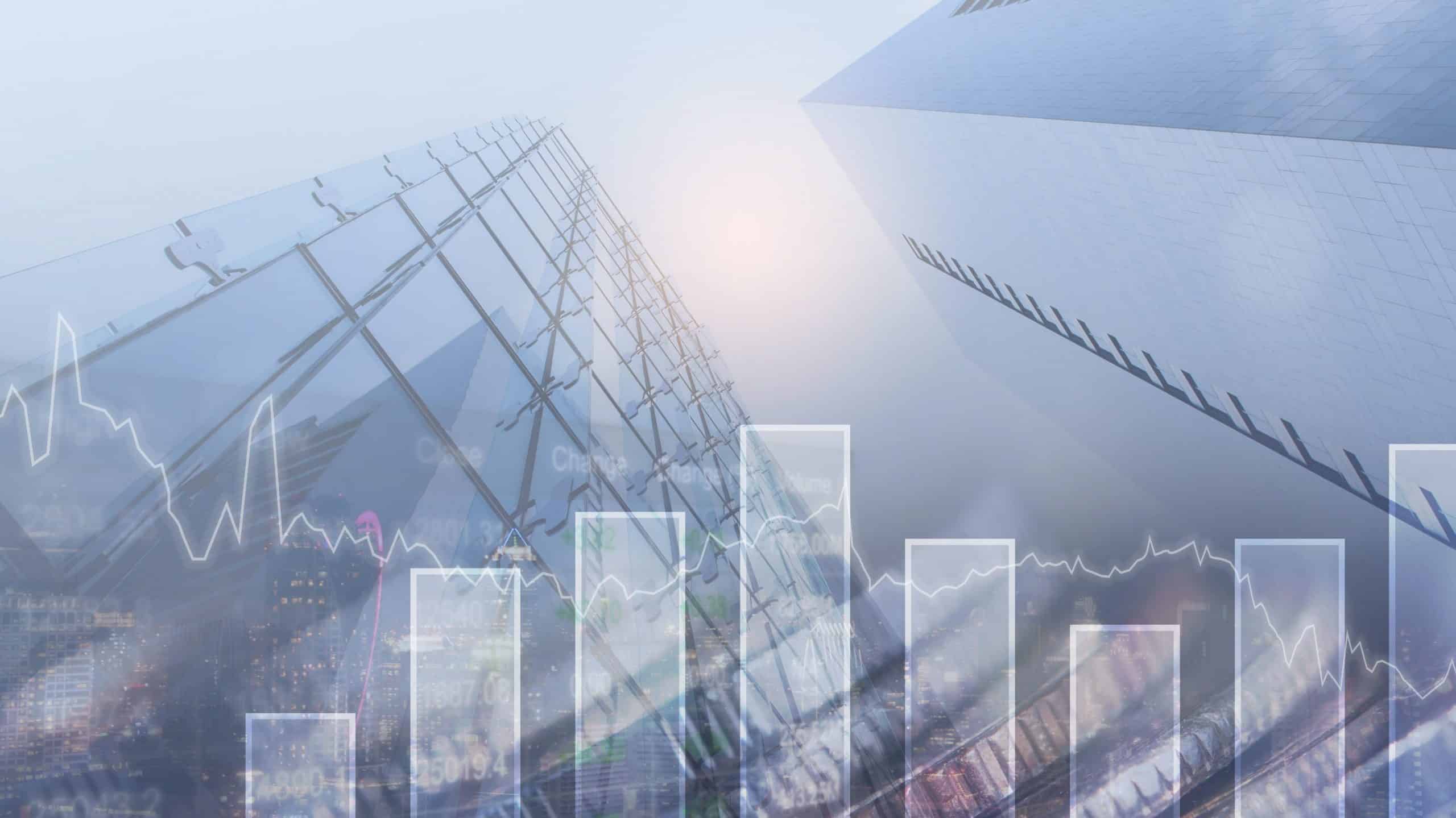 At a Glance
Real estate investing platform that connects individual investors with real estate sponsors to invest in individual investment properties.

Real estate investment platform that offers a wide variety of REITs and Funds with varying strategies and property types

1.50% for REITs varies for individual properties.

Multifamily

Retail

Office

Industrial

Multi-family

Comercial REITs

Interval funds
Who should use these platforms?
Crowdstreet is a better option for…
Accredited investors looking to invest directly in individual commercial real estate properties with a long-term investment horizon.
Fundrise is a better option for…
Non-accredited investors looking to add passive diversification to their investment portfolio through real estate. Given the long, inherently long timeline for real estate investing, Fundrise is best suited for 'buy and hold' investors.
CrowdStreet: PROs and CONs
PROS
Direct access to real estate investments
Rigorous deal review process (5% of opportunities listed)
Strong historical performance (19% IRR)
CONS
High minimum investment
No liquidity options
Limited REIT options
Fundrise: PROs and CONS
PROS
$10 minimum investment
Investor goals and tools
Wide range of investment options
CONS
A tiered account means not all features are available to all investors
Limited liquidity option
What is Crowdstreet?
Crowdstreet is a real estate crowdfunding platform that connects accredited investors directly with real estate sponsors. Individuals can invest directly in a wide range of commercial real estate properties or through the CrowdStreet commercial real estate REIT.
Since its inception, $3.4 billion has been invested through CrowdStreet across over 600 deals.
CrowdStreet returned 19% IRR historical performance based on fully realized deals.
The company was founded in 2012 by Darren Powderly, who has over 20 years of experience in real estate and has been involved in billions of dollars worth of real estate transactions.
Read our full CrowdStreet Review
What is Fundrise?
Fundrise offers non-accredited and accredited investors an alternative option to investing in real estate without the stress and costs of traditional real estate investing. Individuals can invest in a wide range of eREITs and eFunds with a minimum investment of just $10.
Fundrise boasts a wide variety of investment options and strategies, goal-planning features, a user-friendly investment dashboard, and a mobile app.
More than 300,000 people use Fundrise today and have invested over $7 billion in properties throughout the U.S. Fundrise has had 21 consecutive quarters of returns, averaging 22.99% in 2021.
Fundrise was founded in 2010 and is based in Washington, DC. The company was founded by Ben Miller, who has over 20 years of experience in the real estate industry.
Read our full Fundrise Review
How does investing with CrowdStreet work?
Once you open an account, you can browse available investments and view their associated investment metrics and Sponsor details.
Before an investment is listed on the CrowdStreet platform, it undergoes a rigorous deal review process, and to date, only 5% of opportunities were ultimately approved and open for investing.
There are 3 ways to invest with CrowdStreet: Individual Properties through the CrowdStreet Marketplace, the CrowdStreet REIT I, a portfolio of 20-25 commercial properties, and a tailored portfolio built with an advisor that requires a $250,000 minimum. Some investments allow you to invest through an IRA, others through a 401K, but retirement account investing varies from investment to investment.
There are 3 ways to invest with CrowdStreet.
Individual properties through CrowdStreet Marketplace
CrowdStreet REIT (A portfolio of 20-25 commercial properties)
Custom Portfolio (Requires $250,000 minimum investment)
Most individual investments target a holding period of 3 -5 years, while some may target a holding period of up to 10 years. Historically, most investments are held, on average, for 2.9 years. There are no early redemption options through CrowdStreet if you want to exit your investment early.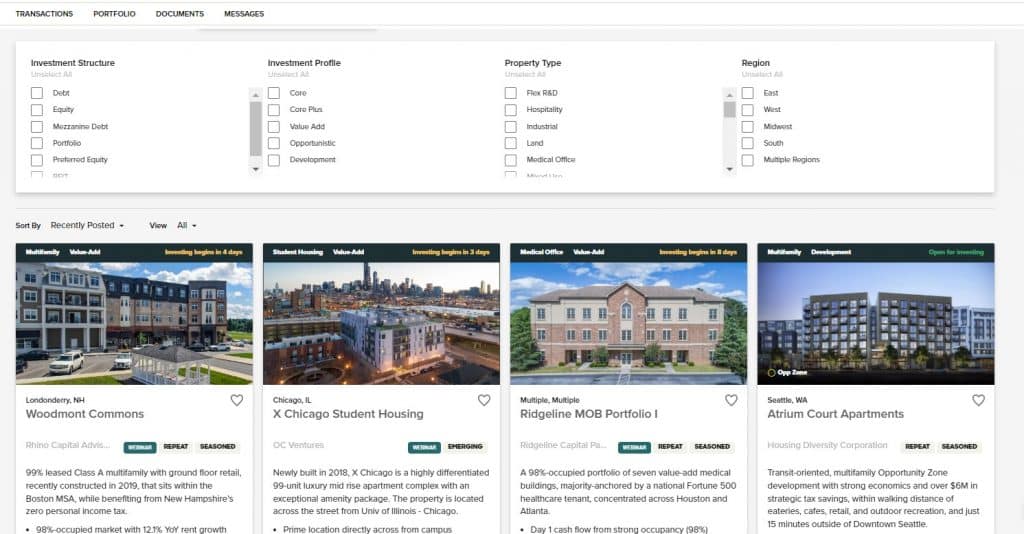 Most investment opportunities on the CrowdStreet platform fall within 4 types of risk profiles: Opportunistic, Value-Add, Core-Plus, and Core, but value-add investments are the most common type of offering on the CrowdStreet Marketplace.
Opportunistic Investments. Target the highest returns but also have the most risk.
Value-Add Investments. Aim to increase cash flow and property value over time by significantly improving the property.
Core-Plus Investments. High-quality properties that are mostly occupied but set aside some of the monthly cash flow for future maintenance and upgrades.
Core Investments. The least risky type of investment. Core investments have stable, predictable cash flows and are usually fully occupied with no need for significant improvements.
During your investment selection process, you can reach out to CrowdStreet's experienced Investor Relations team, who can guide you through any questions you may have.
After you make your investment(s), the sponsor (not CrowdStreet) is responsible for making all of the day-to-day decisions and providing regular updates to investors. For example, the sponsor determines how much profit to distribute or when to sell a property.
How does investing with Fundrise work?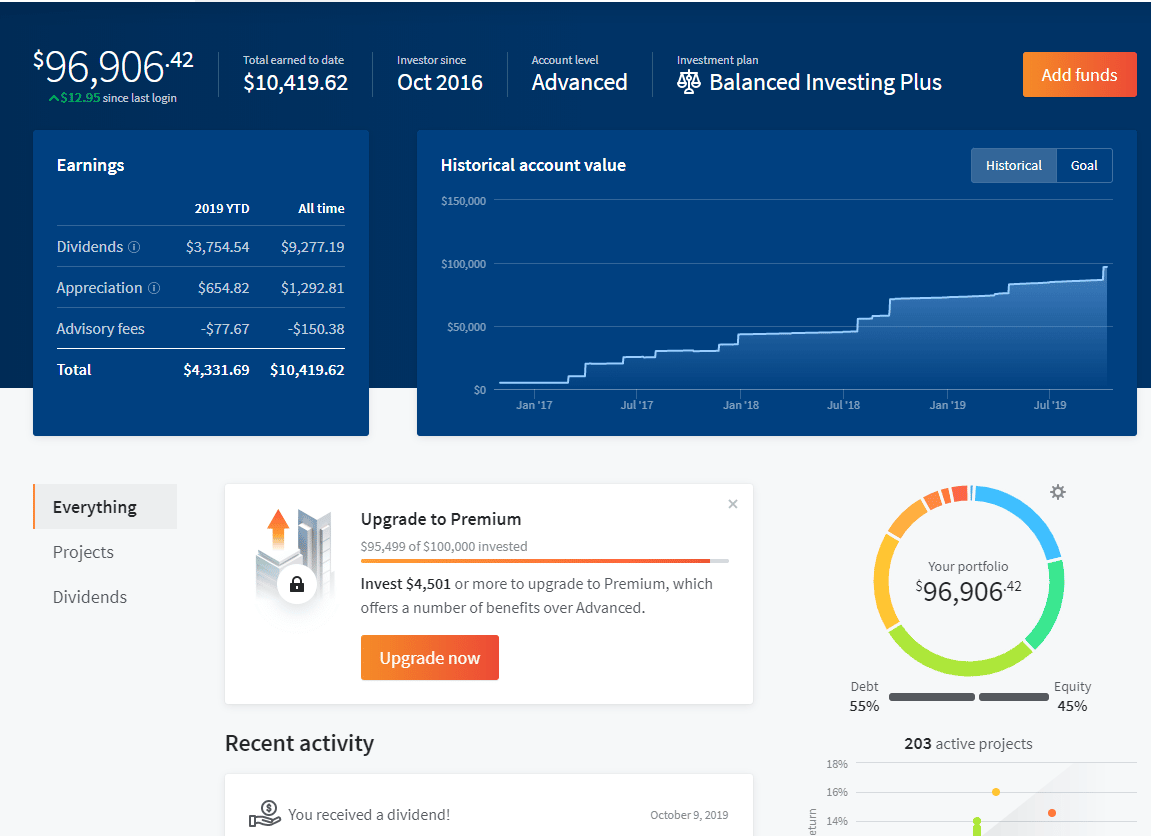 With Fundrise, you are investing in either Fundrise eREITs or eFunds with a minimum investment of just $10.
eREITs and eFunds comprise a basket of non-traded real estate properties, from multifamily apartments to industrial complexes. The eREITs and eFunds aim to seek a combination of dividend distribution and capital appreciation, depending on the strategy.
When you open an account with Fundrise, they offer a wide range of account levels, Basic accounts require a minimum investment of $10. The next level after that is its Basic portfolio, which has a $1,000 minimum. However, Fundrise's most popular account is the 'Core' portfolio, which has the most investment options and features. A Core account requires a minimum investment of $5,000.
After that, they offer an Advanced Portfolio, which requires a minimum investment of $10,000. The premium level is reserved for accredited investors only, with a minimum investment of $100,000.
You can create a customized investment strategy at the Core account level and above. Investors can customize their portfolio by diversifying across a wider variety of funds with specific objectives, such as income, growth, and balanced.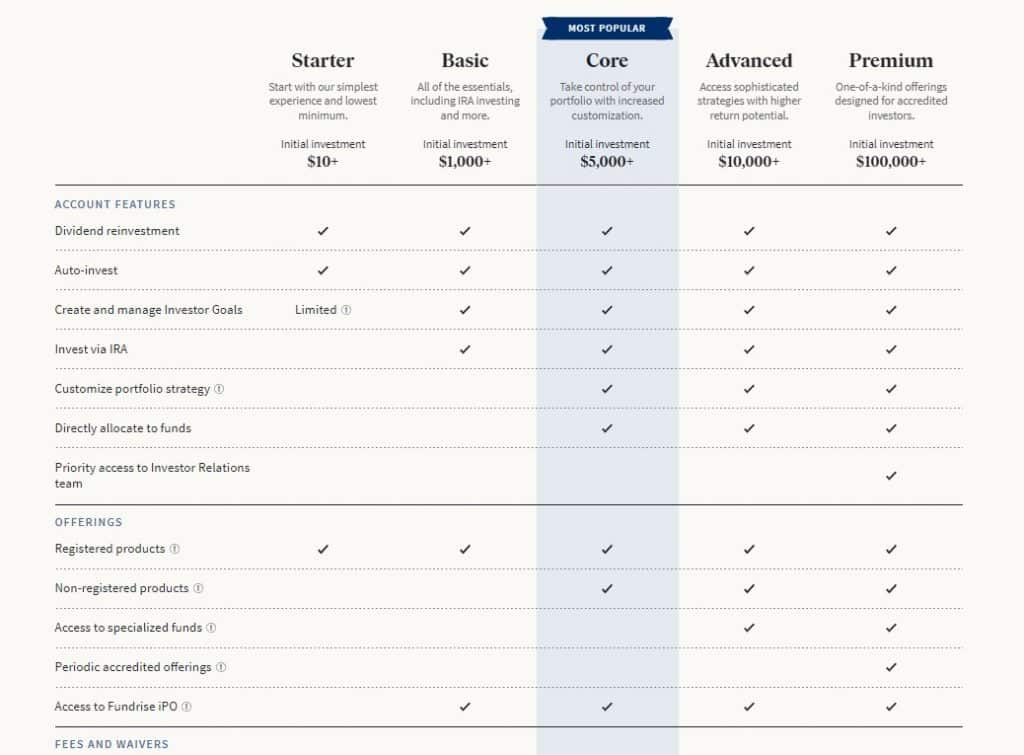 Key Differences
While CrowdStreet and Fundrise are both real estate investing platforms, there are 4 key differences between CrowdStreet and Fundrise that you should know about.
Investor Model
Crowdstreet operates a direct-to-investor model, while Fundrise operates as an intermediary. For example, many other real estate investing platforms, like fundrise, operate as an SPV-to-investor model. The SPV is usually an LLC. This means you are investing in the LLC, which then invests with a sponsor.
According to CrowdStreet, this model can result in lower fees, and greater control when it comes to decision-making. For your average investor, lower fees are better, but not sure how valuable individuals can be from a decision-making perspective. Afterall, you're using the platform because they're the experts, right?
Accessibility
CrowdStreet is open to accredited investors only, making this real estate investment platform out of reach for most investors. An accredited investor is an individual with an income of $200,000 or a networth of $1,000,000 or more, excluding their primary residence.
Meanwhile, Fundrise is open to accredited and non-accredited investors with a minimum investment of just $10. There are no requirements to be considered a non-accredited investor.
Investment Options
The main difference between CrowdStreet vs. Fundrise from an investment option perspective is thatCrowdStreet primarily offers individual property investing through the CrowdStreet marketplace. In contrast, Fundrise only offers real estate REITs and Funds.
However, CrowdStreet recently launched CrowdStreet REIT I, Inc. (C-REIT), a portfolio of 20-25 private commercial real estate projects selected by CrowdStreet.
Meanwhile, Fundrise offers a wide range of eREITs and eFunds, but no individual property investing.
So if you are looking for passive diversification through REITs, Fundrise has more options, but CrowdStreet has more choices if you are looking for direct property investing.
Fees
You will incur fees in some capacity when investing through CrowdStreet and Fundrise, whether through the sponsor or the platform itself.
Fundrise charges a 1% annual management fee, while Crowdstreet does not charge any fees for individual property investing but charges a 1.50% management fee for its REITs.
CrowdStreet does not charge any management fees for its individual properties because they do not perform any asset management.
However, individual properties will likely incur sponsor fees that include: Acquisition / Disposition, Property Management, Asset Management, Construction Management, and Development.
Fees are complicated in real estate investing, so it's important to be discerning when a platform describes its fee structure. It's kind of like car buying; while you may have a 0% interest car loan, the car's total price is probably higher. So, in the end, you don't end up ahead.
Early Redemption Options
All Fundrise REITs and Funds offer early redemption features if you want to exit your investment early. You cannot redeem your investment if it has been held for less than 1 year. After 1 year, Fundrise charges a 1% early redemption fee.
There are no fees if you redeem your investment after 5 years. Fundrise does note that it does not guarantee liquidity, especially during economic volatility.
Meanwhile, CrowdStreet does not offer any early redemption features if you want to exit your investment early.
Fundrise vs. CrowdStreet Returns
In commercial real estate, there is a strong correlation between risk and return. That said, it's difficult to give an "apples to apples" comparison when it comes to real estate returns.
Less risky investments, e.g., Core deals, generate stable cash flow but likely won't generate significant appreciation. While riskier opportunities e.g., opportunistic and value-add strategies, do not generate significant cash flow but are more likely to have greater appreciation when the property is sold.
Since its inception, CrowdStreet returned an annualized 18.7% IRR (Internal Rate of Return) across 147 realized deals (deals that have sold).
Meanwhile, Fundrise does not list total IRR, but rather returns by year:
2021: 22.99%
2020: 7.31%
2019: 9.16%
2018: 8.81%
2017: 10.63%
Which platform is better?
In reality, Fundrise and CrowdStreet serve a specific niche in the real estate investing world.
Neither Fundrise nor CrowdStreet are superior to each other. Fundrise is better for non-accredited investors given its low investment minimum, wide range of eREITs and eFunds, and the ability to sell your shares early.
Meanwhile, CrowdStreet is a better option for accredited investors who want to invest directly with real estate sponsors and not through a REIT or Fund.
However, if you are looking for private REITs as an accredited investor, Fundrise offers a broader range of private REITs opportunities compared to CrowdStreet, which only offers one REIT currently.
Both platforms have had strong historical performance with management teams that fit the bill.