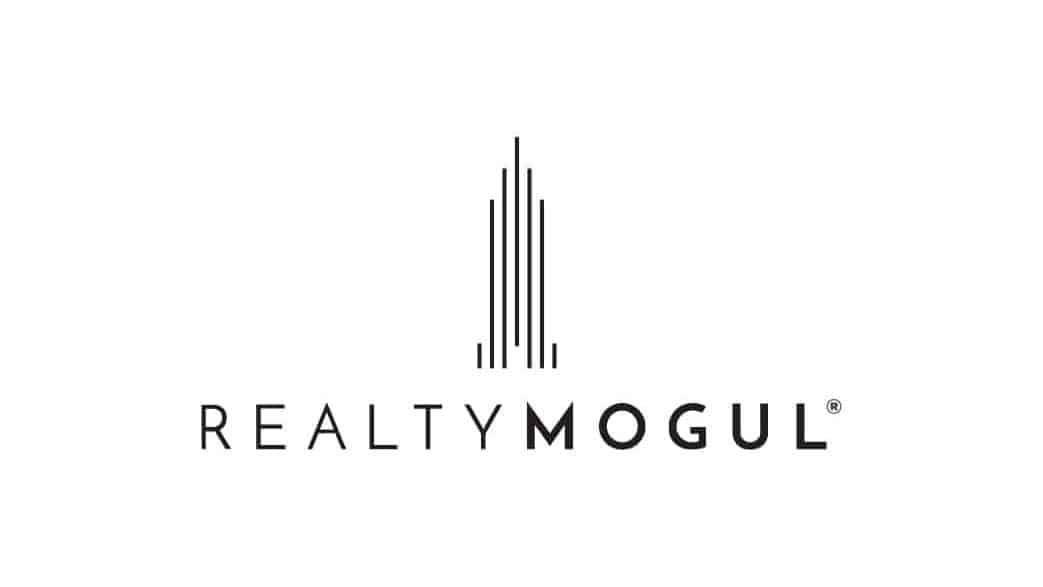 Quick Summary:
RealtyMogul is a real estate crowdfunding platform open to accredited and non-accredited investors. Individuals can invest in commercial real estate starting at $5,000.

Overall Rating:
PROS
Strong history – In business since 2012
Thorough vetting process: 1.1% of deals funded
Open to non-accredited investors

CONS
Fewer investment options vs competitors
Illiquid investments
Key Features
Account Minimum: $5,000 for REITs. Individual properties vary
Fees: 1-1.25% for REITs, varies for individual properties
Investment Options: Income REIT, Growth REIT, individual multi-family, warehouse, industrial properties
Liquidity Features: Yes
Auto Investing: Yes, for REITs
Retirement Account Investing: Yes, through self-directed IRA (SDIRA)
Who Should Use RealtyMogul?
RealtyMogul is good for…
Individuals with an investment horizon of at least 3 years who want to add diversification to their investment portfolio or get returns that are not correlated to the stock markets.
RealtyMogul is not good for…
Investors who cannot meet the minimum investment amount of $5,000 or require daily liquidity
What is RealtyMogul?
RealtyMogul is a real estate crowdfunding platform open to accredited and non-accredited investors. Individuals can invest in commercial real estate starting at $5,000.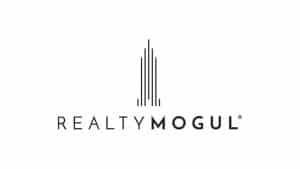 The crowdfunding platform offers two types of commercial real estate investments: individual properties, which are only open to accredited investors, and non-traded real estate investment trusts (REITs). REITs are open to all investors.
Founded in 2012, RealtyMogul is one of the oldest crowdfunding platforms around. They boast 175,000 committed users and have invested over $800 Million, financing 400+ properties valued at over $4.7 Billion.
The founders of RealtyMogul are real estate veterans Jilliene Helman, the CEO, and Justin Hughes. The company is headquartered in sunny Los Angeles, California.
How Does RealtyMogul Work?
RealtyMogul helps individuals invest in institutional-quality commercial real estate like multifamily properties, industrial buildings, and retail space across different markets in the United States. Until the passage of the JOBS Act in 2012, institutional quality investments were only open to the ultra-wealthy.
With a minimum investment starting at $5,000, individuals can invest in REITs and individual properties.
Non-accredited investors can only invest in the RealtyMogul Income REIT and Growth REIT, while accredited investors can also invest in individual commercial real estate properties.
Once your account is open, you can browse investment opportunities and filter by investment strategy, property type, and investment status to help you find the property that most closely meets your investment objectives.
Like most other real estate crowdfunding platforms, RealtyMogul is a platform for project sponsors. In other words, real estate projects are owned and managed by 3rd party companies but source funding through RealtyMogul.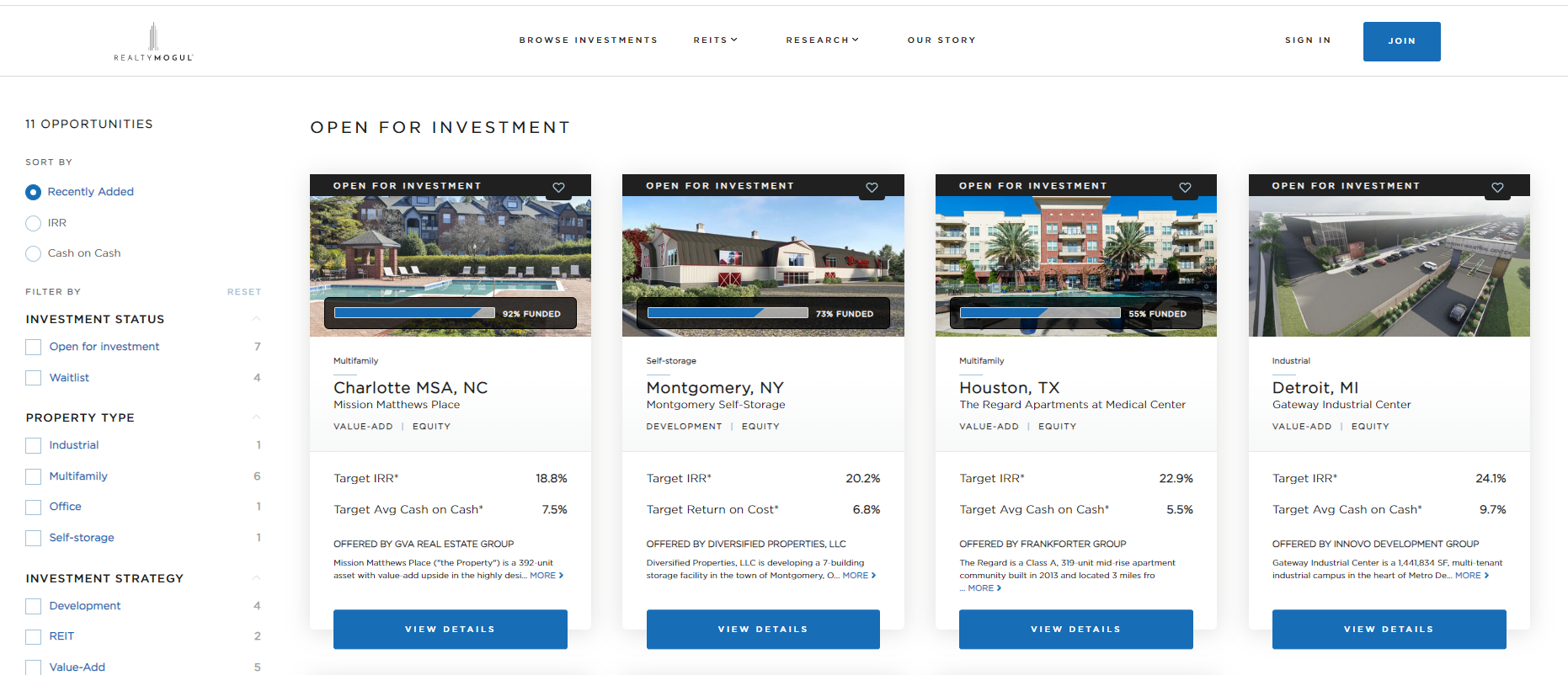 Investing Features
RealtyMogul offers two investment options: Individuals Properties and REITs, an Income REIT and a Growth REIT. Both REITs have a minimum investment of $5,000, while the minimum investment for individual properties varies.
Non-accredited investors can only invest in the RealtyMogul REITs, while accredited investors can invest in both the REITs and individual properties.
Income REIT
The Income REIT is a non-traded REIT that makes equity and debt investments in various types of commercial real estate.
The REIT's objective is to provide monthly income to its investors. It currently yields a hefty 6% annualized distribution rate, paid monthly.
In addition, the Income REIT provides quarterly liquidity options for investors if you want to sell your shares before 3 years.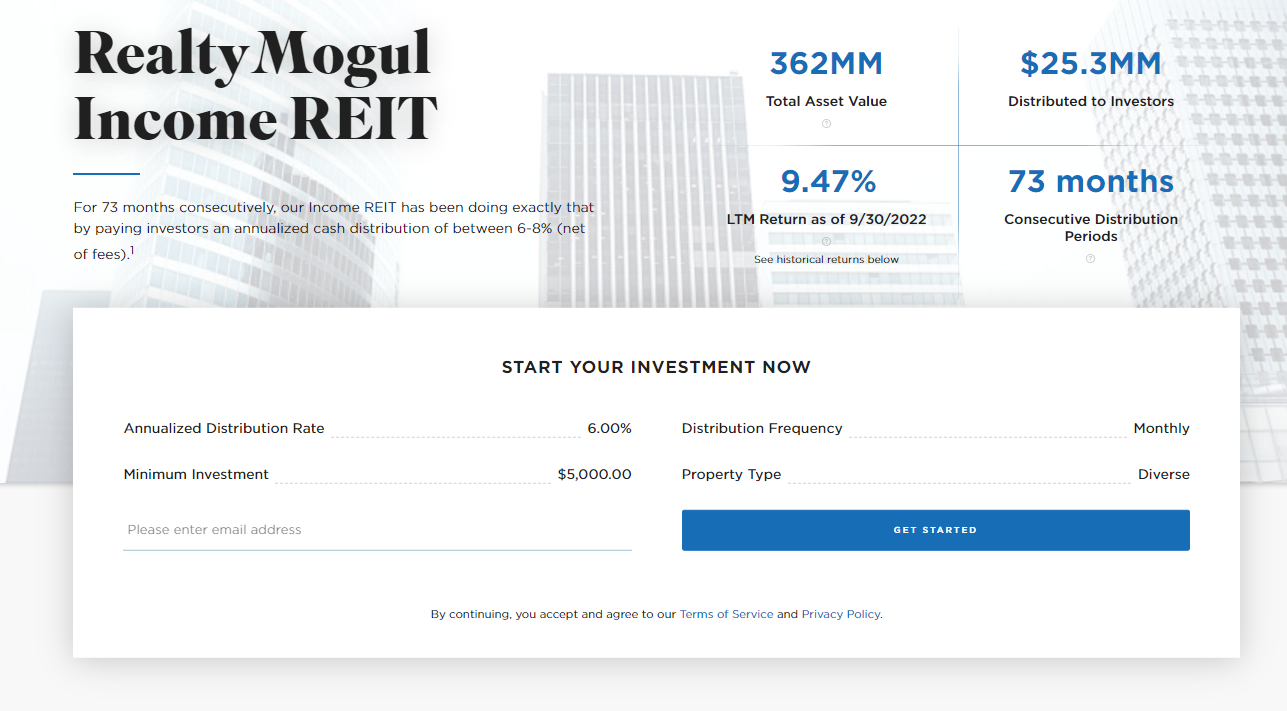 The Income REIT is similar to Fundrise's newly launched Income Fund, which offers a slightly better yield of 6.5%. However, the Income REIT has a long track record – it has been around since 2016, so giving up a 0.50% yield is an easy trade-off.
For individuals looking to invest in real estate, the Income REIT is a good option for investors looking to add diversification through non-traded real estate while earning steady monthly distributions.
Growth REIT
The Growth REIT is a non-traded REIT that invests in apartment buildings in resilient markets that offers steady monthly income and solid growth potential.
The REIT's primary objective is capital appreciation with a secondary objective of income, to pay attractive, stable distributions.
Since its inception, The Growth REIT has distributed 16 months of consecutive distributions to approximately 2,700 investors totalling approximately $4.mm. Anyone can invest in RealtyMogul's Growth REIT with a minimum of just $5,000, regardless of their income or net worth.
The Growth REIT is better suited for individuals looking for a blended investing approach consisting of income and capital appreciation.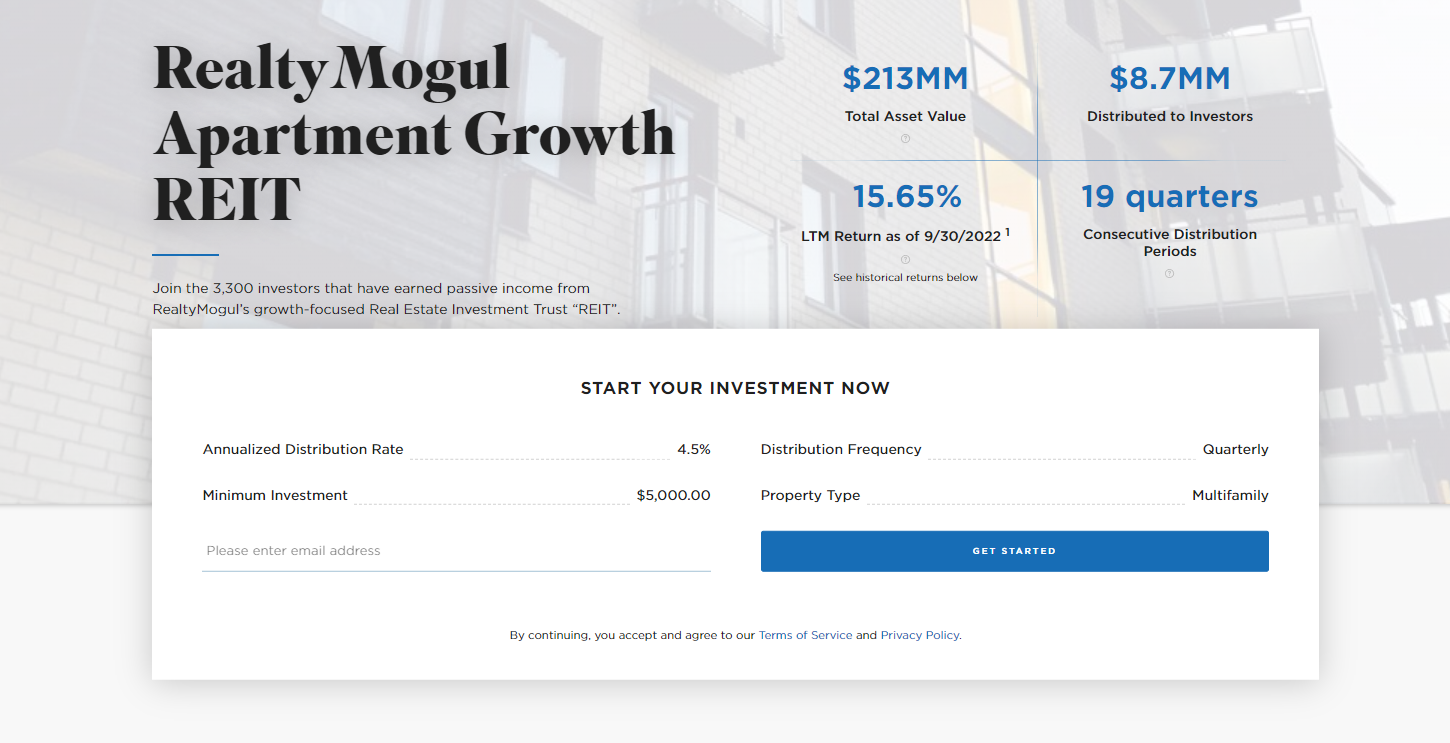 Individual Property Investing
Individual property investing is only open to accredited investors, who must meet certain income or networth requirements before investing.
Individual property investments are considered 'equity' investments within the capital stack. Equity investments have the potential for the greatest returns but also have the most risk.
When you invest in an individual property, you are purchasing shares of an LLC. Then, the LLC and other investors own shares in this property.
Distributions from equity investments are typically made quarterly but can vary depending on the investment and are not guaranteed.
Individual property investing is good for accredited investors who want to take a specific view of the real estate market.

Fees Explained
REITs have an annualized asset management fee between 1% – 1.25%, paid monthly from distributions to investors. The approximately 1% asset management fee is on-par with other crowdfunding platforms.
Like other real estate crowdfunding platforms, there are additional fees such as Organization, Offering and Other Operating Expenses, which can total up to 3% of the equity contribution.
Income REIT: 1%
Growth REIT: 1.25%
Individual Properties: Varies
All distributions quoted by RealtyMogul are net of fees.
Share Repurchases
If you invest in a RealtyMogul REIT, you can sell them back after 3 years at 100% of the most recent Net Asset Value (NAV). There are no share repurchase programs available currently for individual property investing.
Repurchase base price per share is the most recently announced NAV per share
Repurchases are made quarterly upon written request at least 30 days before the end of the quarter
Repurchase Rate:
98% if you held the investment for one year but less than two.
99% if you held the investment for two years but less than three.
100% if you held the investment for three years or more.
0% if you held the investment for less than a year.
For Example: If you held the investment for 1.5 years and the NAV per share is $100, you will get back $98.00.
Real estate is generally considered an illiquid investment. Real estate investors should prepare to hold their investment for at least 2 years to avoid early redemption fees, which can eat into profits.
Due Diligence
RealtyMogul has a thorough vetting process – to date, only 1.1% of opportunities have been funded. Before an investment is listed on the RealtyMogul platform, the company performs a rigorous 3-pronged due diligence process to ensure only the best opportunities are presented to investors.
Background. Background and criminal checks are conducted to identify areas of concern or pending lawsuits.
Experience. All assets the company previously acquired are examined and compared to the proposed project to check if the sponsor has had similar experiences in the past.
References. The company acquires references from lenders, investors, and business associates to ensure there are no red flags.
User Experience
RealtyMogul has an easy-to-use investor dashboard for desktop users and a RealtyMogul mobile app for iPhone and Android.
Once you start investing, you can log in to the investor dashboard on a desktop or using the mobile app.
You can view your user profile and track, manage, and read communications about your investments. The dashboard lets you view transactions, receive important tax documents, and set up auto-investing.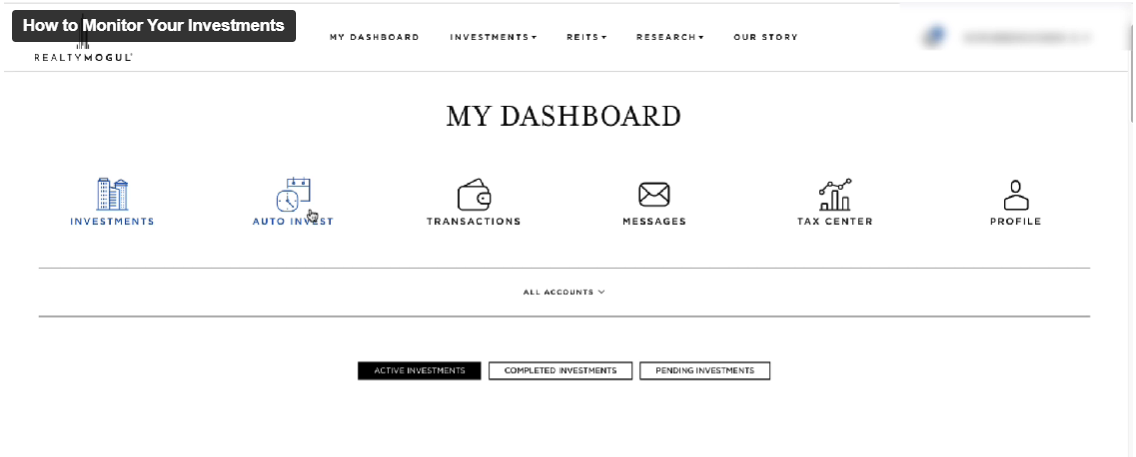 Investments Dashboard
You can track investment metrics for REITs and individual properties within your dashboard. View the current value of your investments, your annualized yield, the total number of shares you hold, the total number of distributions, and the latest Net Asset Value (NAV).

You can also view your completed and pending transactions, including any cash distributions or reinvested distributions, including the date and the amount.

Opening An Account
Opening an account with RealtyMogul is simple.
Step 1) Complete your account profile at RealtyMogul.com. The process is very quick.
Step 2) Select your investment. Once you join, you have access to current eligible investments. Investment details are presented with key information.
Step 3) Once you are ready to invest, complete your transaction online in a few minutes.
Alternatives to RealtyMogul
If you're looking for an alternative to RealtyMogul, There are a few competitors in the crowdfunding real estate space.
Fundrise is RealtyMogul's closest competitor.
| | | | |
| --- | --- | --- | --- |
| | | | |
| | | | |
| | | | |
| | | | |
| | | | |
| | Apartment complexes, Industrial | | |
| | | | |
PROs and CONs
Highly selective – only 1.1% of deals funded
Early redemption features
Auto-investing
Investing through a retirement account
High minimum investment
Fewer investment opportunities vs competitors
Is RealtyMogul Worth It?
Yes, RealtyMogul is worth it. Their Income and Growth REITs have a long track record with over six years of consecutive distributions. However, as an investor in non-traded real estate, be prepared to lock up your money for at least 3 years. Otherwise, you must pay a fee to redeem your investments.
Non-traded real estate can be a good way to add diversification to your investment portfolio while providing non-correlated returns.
Frequently Asked Questions