In this Groundfloor review, we will take a deep dive into this real estate investing platform and help you decide if this company is right for you.

Quick Summary:
Groundfloor is a real estate crowdfunding platform that allows individuals to invest in short-term loans to residential flippers with investment amounts starting at $10.

Since its inception, Groundfloor has repaid over $100 million across 800 loans.
Overall Rating:
PROS
Low $10 minimum investment
Short-term investment timeline (6-12 months)
Investment backed by collateralized assets

CONS
No diversification – Only residential properties
No liquidity
At A Glance:
Overview: Invest in short-duration collateralized debt note loans to "fix and flip" residential real estate investors
Minimum Investment: $10 minimum investment
Investor Fees: None. The borrower pays fees
Returns: Averaged 10.8% annually
Open To: Open to accredited and non-accredited investors
Investment Options: short-term residential single-family debt fractional basis
Types of Accounts: Self-directed IRA
Transparent process with lots of details provided about platform risk and performance
Loss Ratio: -0.69% (since inception)
What Is Groundfloor?
Groundfloor is a real estate crowdfunding investment platform that allows individuals to invest in short-term collateralized real estate debt notes. The company primarily makes short-term loans ranging from 6 – 12 months to real estate "flippers" who fix and flip individual investment properties.

Before opening a loan to investors on their platform, Groundfloor thoroughly vets a borrower's experience, creditworthiness, and business plan. Then, they assess the property value on an as-is and as-improved basis.
Groundfloor is open to accredited and non-accredited investors with a minimum investment of just $10.
This real estate platform was founded in 2013 by Brian Dally and Nick Bhargava and is headquartered in Atlanta, Georgia.
In 2020, Groundfloor was featured in Inc Magazine's list of 5,000 fastest-growing privately-held companies in America and Deloitte Technology Fast 500.
How Does Groundfloor Work?
From sourcing to investment, there is a 5 step process when investing through Groundfloor.
1. The borrower requests a loan
A borrower (flipper, real estate investor) secures a loan through Groundfloor instead of a traditional bank or hard money lender to finance their residential real estate project.
2. Loan Review
Groundfloor reviews the loan application, and if approved, they assign a grade based on the risk of the loan.
Groundfloor uses a proprietary grading algorithm to assign a letter grade between A and G for each loan it underwrites. The grading algorithm uses indicators that consider the valuation and strength of a particular project. The algorithm also considers the experience and risk profile of the borrower. An investor can view the exact score for each LRO.
Letter A loans generally have lower expected returns but also lower expected losses and, consequentially, lower interest payments.
On the other end of the grading spectrum, Grade G loans have higher expected returns and potential loan losses, which means higher interest rates.
Before investors fully purchase the loan, groundfloor prefunds most of the loans they offer. This means the real estate flipper has access to their cash before the Investment is fully purchased. Prefunding shows faith in the Investment on Groundfloor's side because if they fund a loan and it doesn't live up to investors' standards, they stand to be stuck with the Investment.
3. Groundfloor creates an LRO (Limited Recourse Obligation), and the investment is opened on its platform for investing.
Immediately after the loan closes, Groundfloor creates investment securities called LROs based on the loans and files the securities for SEC qualification.
Groundfloor holds a first lien position on each loan, backed by the underlying real estate asset(s).
Once the securities are registered, Groundfloor releases the investments on its platform for individual investors to invest.
Investors can view project details and loan metrics and allocate funds into multiple loans with increments of $10.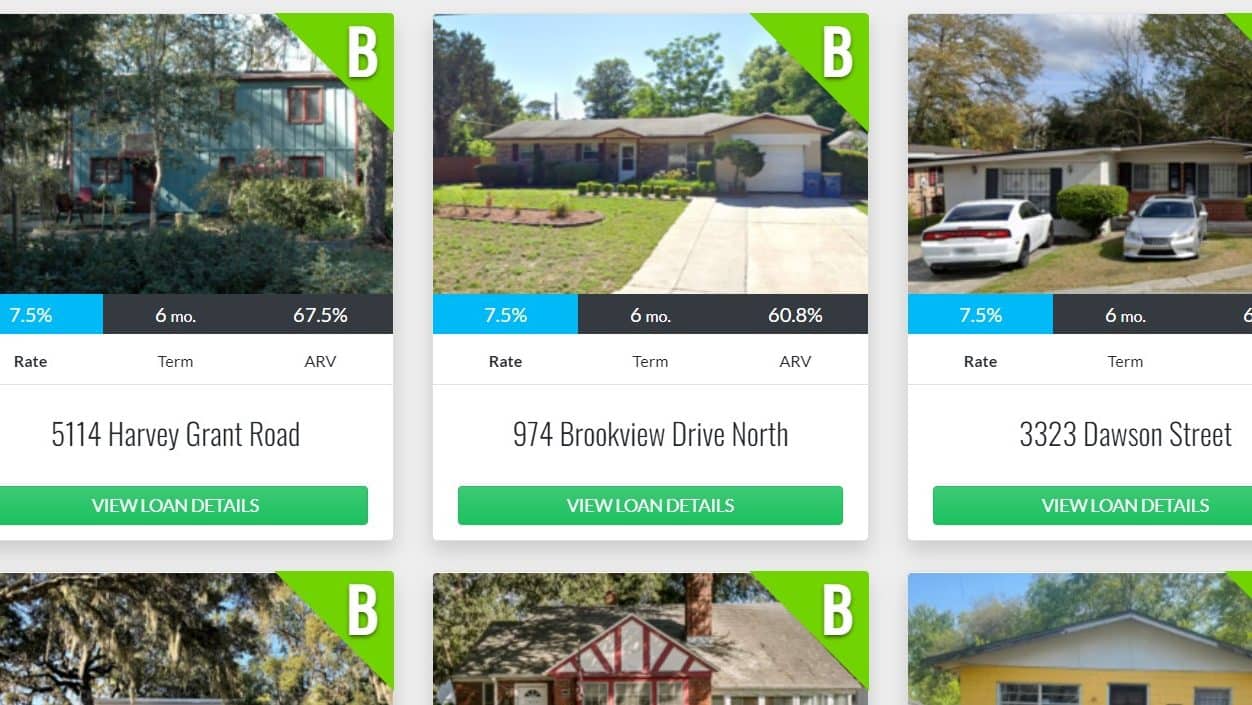 4. Investors receive updates
Groundfloor provides project updates regularly to investors. These updates are only available through the investor dashboard. Some LROs pay monthly interest, while others may pay all the accrued interest at the end of the loan.
5. Loan Repayment
Step 5. Once the loan is repaid to Groundfloor, investors in the LRO receive their principal and interest payments.
Once the loan is repaid, investors can withdraw at any time or reinvest into additional LROs.

Investment Options
Groundfloor's main investment product is short-term residential real estate debt investments for fixed and flip properties.
Benefits of Real Estate Debt Investments
Shorter-term
Inherently carry less risk
Investments are backed by secure, collateralized assets (The properties themselves)
Investors are first in line to be repaid should the property need to be sold as collateral to repay the loans
Equity investments, which you usually own on other real estate investing platforms, do not have the same benefits as real estate debt investing.
Funded real estate projects are sourced from around the country and vary in size, term length, and risk level.
Groundfloor has built up a solid loan origination pipeline and introduces new investment opportunities on the platform weekly, ensuring investors always have the option to diversify into new projects.
Groundfloor also offers the ability to set up a self-directed IRA, allowing investors to diversify their retirement portfolio with real estate.
Loan Grading Scale
Once your Groundfloor account is funded, you can review and invest in a wide variety of properties with varying levels of risk and corresponding returns. Groundfloor has a 7-level grading scale for each loan it underwrites.
Each grade has a corresponding rate floor. A Rate floor is the minimum rate Groundfloor will offer borrowers for any given letter grade [5% – 15%].
Grade A is considered the least risky but offers the lowest rate floor and, consequentially, the lowest interest payments Low-risk loans are typically graded A, B, and C.
Grade G is considered the riskiest, offers the highest rate floor, and has the largest interest payments. Depending on an individual's risk appetite, most investors would probably look for a C to E-rated loan.
Most loans offer yields from 7.5 to 14% and terms from 6 to 12 months. Loans can be 3, 6, 9, or 12 months. Since inception, investors have earned 10.5% and $12,693,868 in total interest.
100% of the interest is passed directly to investors in the LRO. Groundfloor does not adjust the interest rate and loan grade for the duration of the loan.
| Loan Grade | Rate Floors |
| --- | --- |
| A [Lowest Risk] | 5% |
| B | 6% |
| C | 8% |
| D | 9% |
| E | 12% |
| F | 14% |
| G [Highest Risk] | 15% |
| | |
When Groundfloor grades a loan, they consider several factors in determining its grade and subsequent interest rate. In descending order of importance:
Loan to ARV Score
Quality of Valuation Report
Skin-in-the-game
Location
Borrower Experience
Borrower commitment
Before investing in a loan, you can view the full details, including a financial overview, valuation reports, property descriptions, and borrower summary. This allows an investor to make an educated decision before investing through Groundfloor.
Note: I recently watched a Groundfloor webinar, and they noted that macro headwinds are pushing them toward tighter lending conditions, ensuring only suitable opportunities are presented to investors.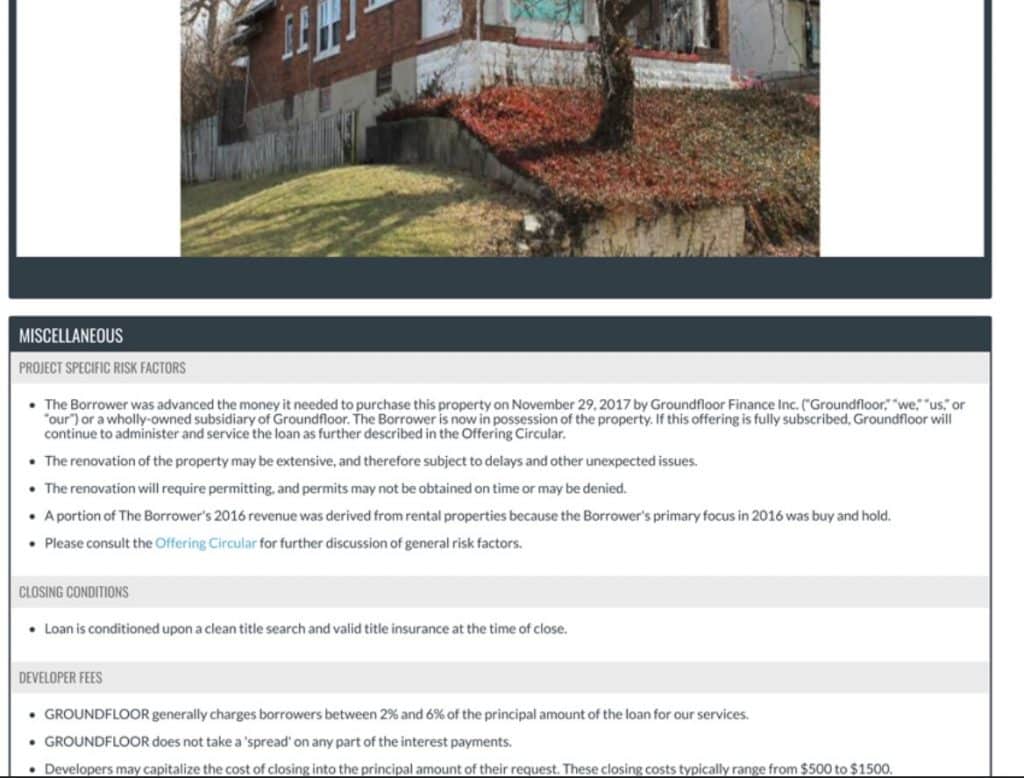 How Does Groundfloor Differentiate Itself?
There are an endless number of real estate crowdfunding platforms available. If you are unsure where to start, below are some ways Groundfloor stands out against the other real estate crowdfunding platforms.
$10 Minimum Investment. You can start investing with just $10. Many other platforms have investment minimums starting at $5,000.
Investments Are Backed By Collateral. With Groundfloor, you are investing in real estate debt, which has a much lower risk profile in the capital stack compared to common or preferred equity, which can often be found in other real estate crowdfunding platforms.
Groundfloor Stands Behind Their Loans. Groundfloor prefunds all its investments before they are sold on its platform. Doing this shows that Groundfloor has faith in its investment selection process. Because if the loan does not live up to investors' standards, they could be stuck with the loan.
Greater Control. Groundfloor allows you to fund multiple investments at once. Many other real estate platforms often only have a select few investment options at any given time. And with a minimum investment of just $10, you can fund multiple investments at once, giving you true investment freedom.
Advantageous Investment Structure. Most companies that offer real estate investments are structured as real estate investment trusts (REITs). When an individual invests in a REIT, it is pooled with other investors' money and goes into multiple projects owned and/or operated by the REIT. Subsequently, the company, not the investors, decides which project to fund and how much investor money to put towards each project.
No Self-Dealing. Many REIT-based offerings also self-deal, which means the company offering the REIT may also be the project managers, leasing agents, or property managers for the underlying properties, thereby creating a potential conflict of interest.
Making The World A Better Place. Groundfloor recently partnered with PadSplit to increase housing density and reduce gentrification in Atlanta and other metros.
Who Can Invest With Groundfloor?
Accredited and non-accredit investors can invest in loans through Groundfloor for as little as $10.
If you are an accredited investor, Groundfloor offers special features through its Anchor Investor Program:
No caps on investing in Anchor Investor-only loans
Exclusive access to our Anchor Investor-only loans
Insider access to early releases of new features and investment opportunities before they're available to the public
Return Metrics
Historically, Groundfloor investors averaged 10% annualized returns on a 6-18 month timeframe. According to the company's most recent analysis (July 2021), the average annualized return on Groundfloor investor portfolios was 9.98%.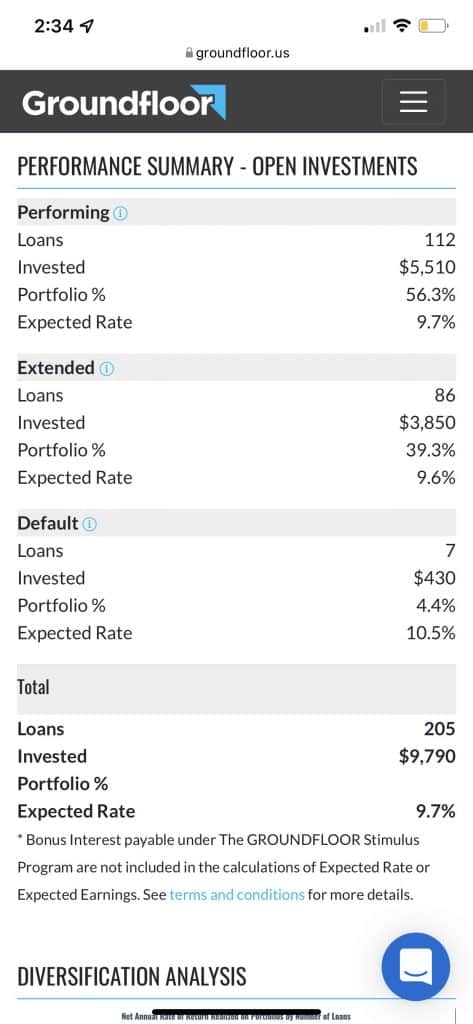 Furthermore, Groundfloor provides a transparent process with many details about platform risk and performance.
The company has a Loss ratio of only -0.69% (since inception)
There are no fees to invest with Groundfloor.
Investment Repayment Explained
A recent Groundfloor webinar displayed some interesting stats about recovering past-due payments:
70% Extended Not Performing repay in full with principal and interest.
75% of loans in default pay with full principal and some interest
67% of loans in REO repay with 75% or principal recovery.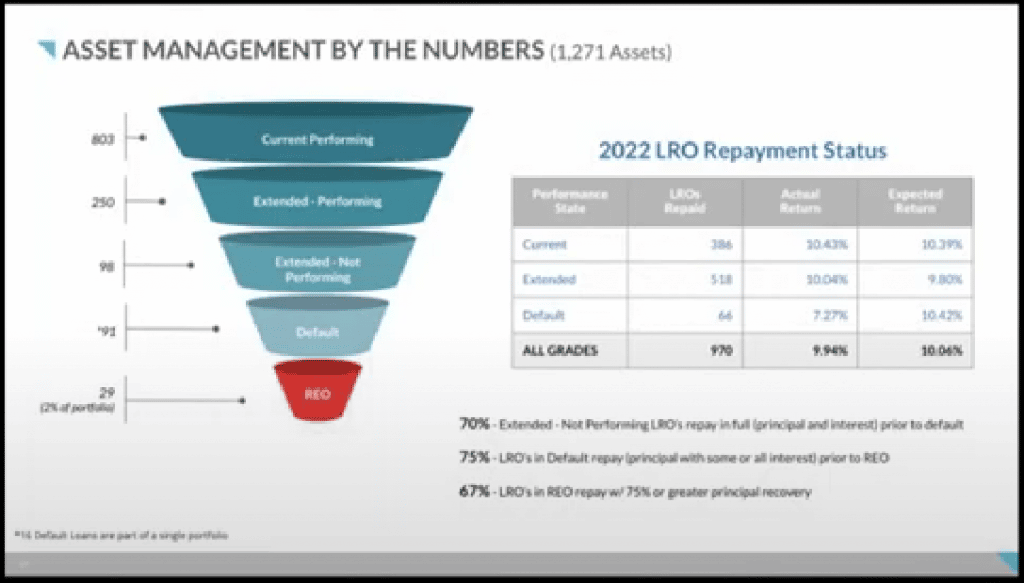 Groundfloor loans can either have monthly or deferred payment terms.
When a borrower makes monthly interest payments on a monthly payment loan, investors will receive a monthly interest payment. Groundfloor processes these monthly interest payments once a month.
When a borrower repays the principal and outstanding interest on a monthly payment or deferred payment loan, investors are repaid in one lump sum. Once Groundfloor receives funds to satisfy the loan, they will repay the investor's principal and interest within 7 days.
How Do I Open An Account?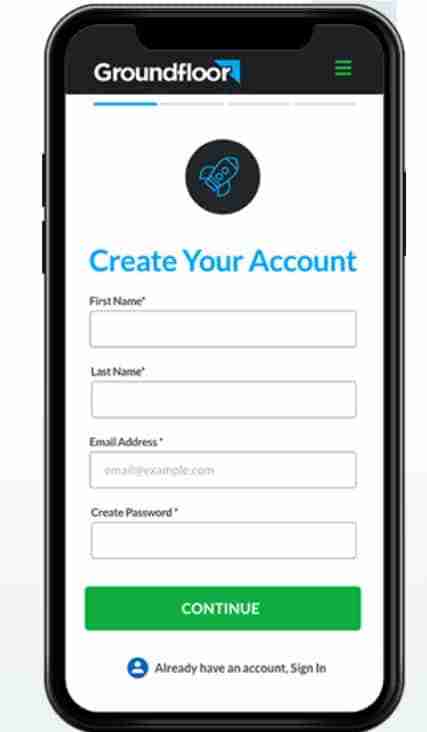 You first need to create an account with Groundfloor

Upon creating an account, you will be directed to enter your personal information, so Groundfloor's third-party payment processor can verify your identity.

Then, you will be asked to add a funding source for your account. You can instantly link your bank account via Plaid or manually enter your bank account information. You can set up one-time or recurring transfers.

Once your bank account is linked and you have funds in your account, you can begin investing in GROUNDFLOOR loans.
Is Groundfloor Legit?
Yes, Groundfloor is legit! Groundfloor currently has over 100,000 registered users on the platform. The company has seen investment sales of over $570M and has processed over $1B transactions on the platform.
Groundfloor is an award-winning company. Groundfloor has won numerous awards, including being ranked in Deloitte Consulting's Fast 500 List and a winner in the Benzinga Global Fintech Awards.
Since its inception, Groundfloor paid over $12 million in interest across 800 loans.
Furthermore, Groundfloor loans are converted into investment securities (LROs) and qualified by the U.S. Securities and Exchange Commission (SEC).
This means that Groundfloor's investment offerings are subjected to increased oversight by the SEC, providing investors with a high degree of protection.
Alternatives To Groundfloor
There are endless real estate crowdfunding platforms. Below are a few popular ones.
| | | | |
| --- | --- | --- | --- |
| | | | |
| | | | |
| | | | |
| | | | |
| | | | |
| | Residential Single Family | | |
| | | | |
Is Groundfloor Worth It?
Given the short-term duration of the notes, Groundfloor is best suited for those looking to generate income through real estate instead of capital appreciation. If you are looking for capital appreciation through real estate investing, you may be better off using a platform like Fundrise, which offers multiple investment strategies.
Plus, the new Stairs by Groundfloor allow investors to invest in pre-funding real estate deals without taking on repayment risk while earning 4 – 6% interest.