Public.com is a mobile-first investing platform that enables individuals to invest in Stocks, ETFs, Crypto, Art, NFTs, Collectibles, and more – all in one place.
PROS
Invest in fractional share of alternative assets

Community-based investing

Unique market data and insights
CONS
No fixed income or mutual funds
No secondary market for alternatives
No retirement account investing
In this public.com review will look at this commission-free, community-based investing app, and help you decide if it's the right place to start investing.
At A Glance:
Minimum Investment: $0
Pricing & Fees: $0 commissions for stock and ETF
Account Types: Taxable Brokerage account, Cash account
Investment Options: Stocks, ETFs, Cryptocurrencies, Alternative Assets
Automated Dividend Reinvesting: Yes
Recurring Investing: Yes
Automatic Transfers: Yes
Margin Accounts: No
Options Trading: No
Current Promotions: New customers are eligible for free stock valued up to $300
What Is Public.com?
Public is a mobile-first investing app that appeals to beginner to intermediate investors who want to invest in stocks, ETFs, cryptocurrencies, and alternative assets in one easy-to-use platform.
Like other discount brokers, Public offers commission-free trading for stocks and ETFs.
The company emphasizes a community-based investing ecosystzem by encouraging users to interact with other investors on the platforms, join town halls with business executives, and create group chats with other public app users.
Public users can invest on a fractional or a whole share basis with no minimum investment.
The company was founded in 2017 and has over 1 million users. Since its founding, this investing platform has raised over $300 million in venture capital from some of the same investors who also backed Facebook and Venmo.
Public is headquartered in New York City with additional offices in Copenhagen.
How Does Public Work?
Public operates as a mobile-only platform and offers one type of account; a taxable brokerage. Like most discount brokers, you can buy and sell stocks and ETFs without commission.
At first glance, Public.com appears to be no different than other brokerages out there.
However, unlike other brokerages, Public creates emphasis on its community-based platform. You can also invest in alternative assets like fine art, collectibles, and cryptocurrencies – all in one place.
Opening an account with Public is easy. There are no sign-up fees, and anyone 18 or older can open an account in minutes. If you are a new member, you can earn free stock valued up to $300 when you sign-up for Public.
Fractional share Investing
Like most discount brokerages, the public app offers investing on a fractional share basis for stocks, ETFs, cryptocurrencies, and alternatives. Additionally, you can turn on automatic dividend reinvestment for stocks and ETFs on a fractional basis too.
You can purchase fractional shares with just $1, which will also give you voting rights.
You can only buy and sell fractional shares with market orders; you cannot execute limit orders with fractional shares.
Alternative Assets
Anyone interested in a Birkin bag?
The public investment app offers alternative asset investing through fine art, collectibles, and NFTs. Their alternative asset platform will soon start offering music royalties and real estate too.
Public's alternative investing platform takes care of everything you might be worried about with alternative investments like authentication, insurance, and storage.
Due to the high acquisition costs of alternative investments, you can invest on a fractional share basis, requiring far less capital than you would with traditional alternative investments.
It's important to note that due to the illiquidity of alternative assets, Public does add hefty fees during acquisition, holding and disposition:
Primary offering fee: 0 – 10%, used to purchase the asset, storage, insurance and maintenance. This fee enables the public team to comprehensively analyze, source, and perform diligence on each of our collectible assets and pay brokerage and related fees.
Carry 10% of profits on the assets sold.
Secondary Trading Fee: 2.5% is charged if you want to sell your shares early. This fee is associated with the illiquidity alternative investments.
Investing in alternative assets through Public can be an excellent way to provide diversification and reduce volatility in your investment portfolio.
Cryptocurrency Investing
Through the public investing app, you can buy, sell and hold 27 different cryptocurrencies, including Bitcoin, Ether, UniSwap, and Litecoin, to name a few.
Unlike stock & ETF trades, there is a 1 -2% markup on cryptocurrency trades executed through Public.
Public does not currently offer individual crypto wallets. Instead, they provide cryptocurrency trading through its partnership with Apex Clearing. This means you cannot transfer cryptocurrency assets in or out of the public app.
Not a huge deal — but you should be aware if you plan on actively trading crypto.
Tradeable Cryptocurrencies on Public:
Bitcoin (BTC)
Ethereum (ETH)
ApeCoin (APE)
Cardano (ADA)
Shiba Inu (SHIB)
Dogecoin (DOGE)
Avalanche (AVAX)
Solana (SOL)
Uniswap (UNI)
Chainlink (LINK)
Polygon (MATIC)
Algorand (ALGO)
Sushiswap (SUSHI)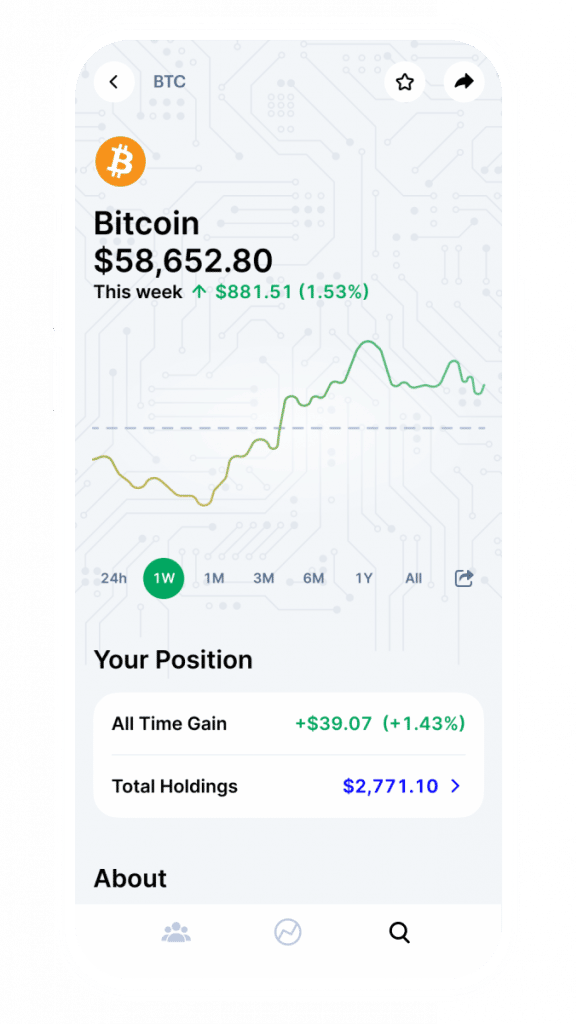 Community, Investing Tools & Research
Public does not offer traditional stock screening tools or charting functionality, but offers community-based knowledge sharing. Public gives users the power to create chat groups with other investors, and you can also participate in investing events through the app.
Investing Themes. If you are new to investing or want some trading ideas, you can use themes to discover stocks and ETFs to invest in. Some popular themes include most popular stocks, companies investing green power, and Cannabis, to name a few.

Get Information in unique formats. The Pulse feature enables companies to share their stories in an innovative format. Gone are the days of press releases and boring long-form writing.

According to Public, 50% of retail investors factor trends, new products, and/or company values into their decisions.

Hear directly from industry execs. Through public town halls, they offer Q&A sessions with executives of various publicly-traded companies. Historically, executive sessions were only reserved for institutional investors, and public is changing that.

Public Live. Is their audio broadcast that gives members direct access to business leaders, financial creators, and industry experts as events in the market unfold in real time.

Members can easily drop in to listen as guests discuss the latest business moves in the same place where they invest and share their insights with a community of fellow investors.
Public Premium Subscription
Public Premium is the company's advanced subscription service.
For $10 a month, Public Premium members can access MorningStar Research Reports, Unique market metrics, and unparalleled access to VIP customer service with a North Carolina team.
Public Premium Features:
MorningStar Research Reports
Unique Market Metrics
VIP Customer Service – Team in North Carolina
Extended trading hours
Public Premium has free cancellations; if you sign-up and decide you don't like the service or don't need it, you won't be charged any outrageous cancellation fees like other investing platforms.
Pricing & Fees
Public has a reasonable fee structure that is in line with other discount brokers — nothing extraordinary. They do not charge trading fees for US Equities or ETFs, and there are no costs to open an account.
There are fees for cryptocurrencies, alternative assets, and other add-on services, such as extended-hours market trading.
U.S. Stocks & ETFs: $0
Alternative Assets: 2.5%. Alternative assets may have additional fees to offset asset storage, insurance, and management costs and fees associated with asset sales or cash distributions. These fees are laid out in the specific asset's offering circular.
Cryptos: 1 -2 % Mark-Up
Extended Hours Trading: $0 for premium members, $2.99/mo for non-premium members
Public Premium Subscription: $10/month (optional)
Mobile App
Public.com is a mobile-first investment platform. Their investing platforms focus on making a user's experience as seamless as possible through an integrated and well-thought-out design.
Overall, many users indicate they are happy with the app, noting the community aspect of public and ease of use.
There is a feed of other investors' trades with hashtagged categories providing various trading ideas.
To execute a buy or sell or order, you search for the stock or ETF and select "Invest."
From there, the app requires you to specify the number of shares or dollar amount.
The Public app is available in the Apple App Store, which has a 4.7 out of 5, and Google Play Store.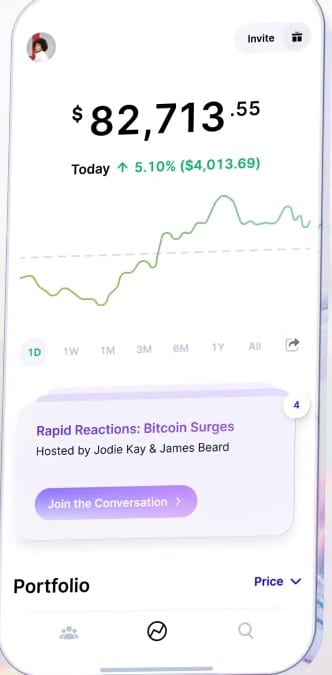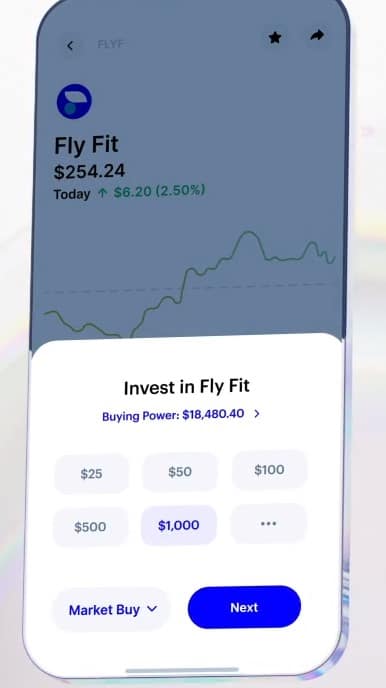 Who Should Use Public?
Public Is Good for…
Beginner to intermediate investors
Active traders
Investors who want a social-based aspect to investing
Public Is Not Good for…
Retirement account investing
Options trading
Alternatives To Public
Public vs. Robinhood
Public's closest competitor is Robinhood. Both investment platforms are considered discount brokers who target beginner to intermediate investors. Public and Robinhood both provide a mobile-first investing experience with no fees for equity or ETF trades.
Public.com vs. Robinhood: Investment options
Public and Robinhood both offer stock, ETF, and cryptocurrency trading. However, Public.com does not have US options trading like Robinhood, but Public offers alternative assets while Robinhood does not.
Neither platform offers fixed income or mutual funds.
Public.com vs. Robinhood: Fees
Many users were unhappy with Robinhood after their business model of payment for order flow became public knowledge. Unlike Robinhood, Public does not participate in payment for order flow or payments to market makers.
Public vs. Robinhood: Premium Subscription Services
Both trading platforms offer a premium-level subscription; Public offers its Public Premium service which provides enhanced market data, VIP customer support, and extended trading hours for $10 a month.
Meanwhile, Robinhood offers its Robinhood Gold service for $5 a month. Robinhood gold provides investors with lower margin rates than its instant account, enhanced market data, and larger access to unsettled funds.
Unlike Robinhood, Public does not offer margin investing.
You might be interested in: M1 Finance vs. Robinhood
Is Public.com Legit?
Yes, Public is legit. This company is a Regulated Broker-dealer registered with the Securities and Exchange Commission and FINRA. This means you can be rest assured that Public.com is adhering to laws and regulations that govern the investing markets.
$500,000 SIPC Insurance for stocks, ETFs, and cash

Regulated Broker-dealer

Registered with the Securities & Exchange Commission

Registered with FINRA
In addition, Stocks, ETFs, and cash in your account are protected with up to $500,000 in SIPC insurance, including up to $250,000 in cash protection. This means that in the case that Public experiences financial trouble, your cash, stocks, and ETFs are safe.
Did you know? Cryptocurrencies are never covered by SIPC insurance.
Is The Public App Safe?
Yes, the public app is safe. All accounts are secured by a bank-grade security AES 128-bit encryption, TLS for secure data transit, and a default two-factor authentication for additional protection.
Furthermore, all data collected on Public's app is stored and managed on U.S.-based servers. As of this writing, Public has not had any major data breaches.
How does Public make money?
One of the biggest concerns with Robinhood was its payment-for-order flow business model.
Public does not sell your trades to third-party market makers, nor do they take any payment for order flow.
Public makes money through its premium subscription, optional tipping, stock lending, the markup on crypto transactions, and the carry fee it generates from alternative assets. Public also makes money on uninvested cash in cash accounts.
Public's diversified revenue ensures it is putting investors first and not focused on revenue strictly from payment for order flow, which can be detrimental to investors.
The Bottom Line
Public offers a unique business model that is a bit more refreshing than what we have seen from other discount brokerages.
Public's key differentiation from other discount brokerages is its community-based investing and alternative asset offerings.
In addition, the ability to trade stocks, ETFs, cryptocurrencies, and alternatives in one easy place – instead of fumbling through multiple apps and websites makes it a huge plus.
If you want to try investing with a community twist, then public.com could be right for you.