Sip, Savor, and Invest: The Ultimate Guide to Uncorking the Lucrative World of Investment Grade Wine.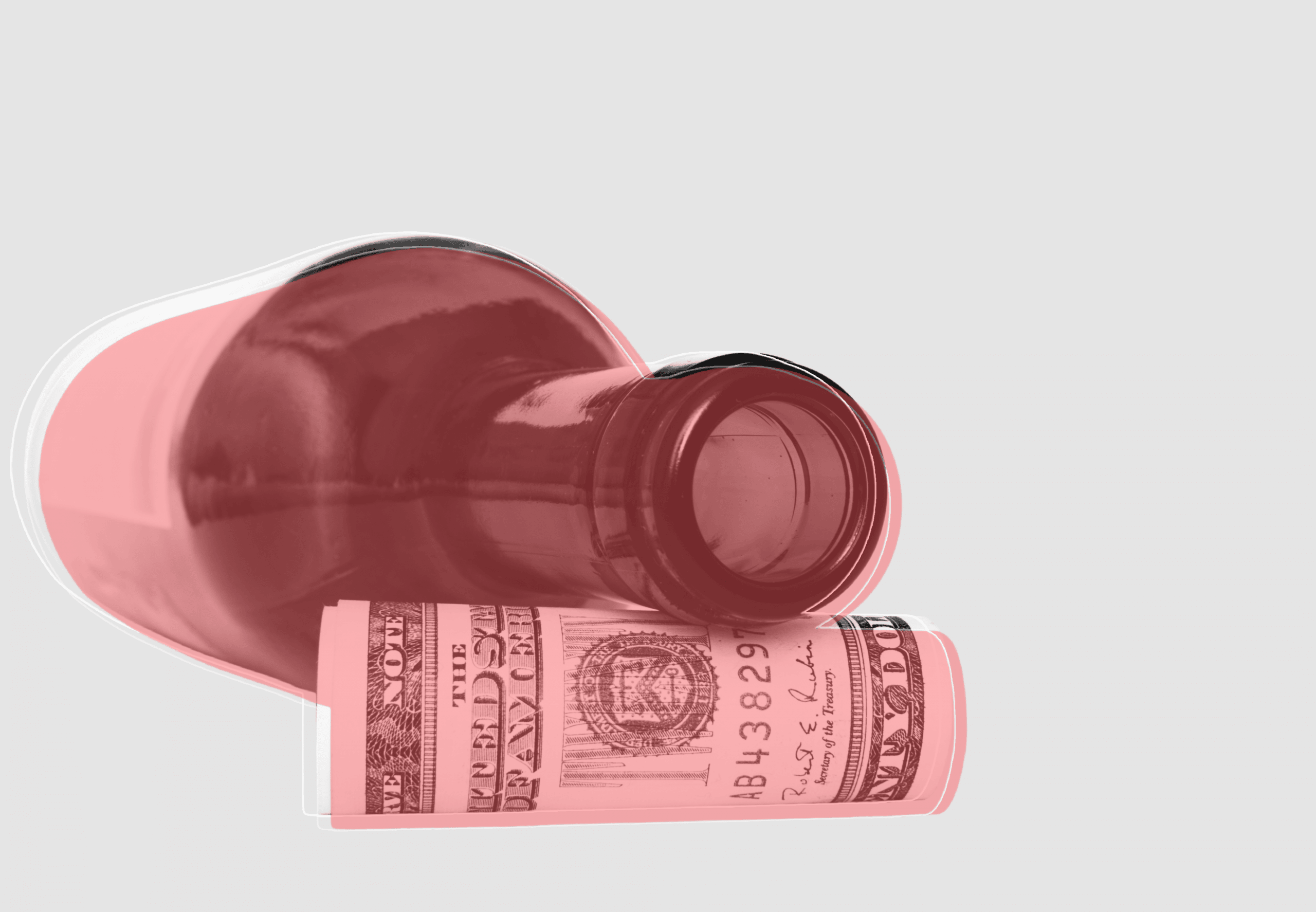 Some people like investing in rare coins, while others enjoy sports collectibles, classic cars, or even luxury handbags.
During uncertain economic times and wild market movements, there has been a flight to alternative investments like fine wine.
If you're interested in wine investing, here's what you need to know before you get started.
What is Wine Investing?
Wine investing is when an individual purchases either physical bottles of investment-grade wine fine or securities backed by physical bottles of wine.
Economics 101: Investment-grade wine is considered a Veblen good. This means as prices go up, demand goes up due to its exclusive nature and appearance as a status symbol.
Unlike wine you find at your local liquor store, only 1% of the world's wine is considered investment grade, according to Vinovest, a wine investing marketplace.
Investment-grade wine distinguishes itself from mass-market peers by its ability to age, value on the secondary market, and producers' long track record for excellence.
Approximately 80% of investment-grade wine comes from France, and prices range from a few hundred dollars to tens of thousands.
And because fine wine only maintains its value if it remains unopened, the value is mainly dependent on the opinion of industry experts.
Wine Investing is Increasing In Popularity
High barriers to entry, lack of reliable data, and a European-focused market once made investing in wine fine only available to the ultra-wealthy overseas.
The United States accounted for only 1% of the wine market in 2011 but now accounts for one-third of the global sales volume.
Bordeaux wine from France accounted for 96% of the wine market just 10 years ago. But over the past decade, the wine market has broadened significantly; there is an increasing demand for wine from regions located in California and countries in South America.
What Are The Advantages of Wine Investing?
Investment grade wine provides a wide range of advantages, not only financially but also as its standing as a passion asset class.
Non-Correlated Returns To The Stock Market
Fine wine has historically shown little correlation to mainstream markets.
Compared to the S&P 500, wine has a 0.12 correlation.
This means their prices do not move together. During periods of extreme market volatility, wine can provide non-correlated returns to the stock market.
Note: The Liv-ex 1000, a composite of the most widely traded investment-grade wines, is up 8.6 percent, while the S&P 500 is down 16 percent as of Sept. 1.
Historically, investment-grade wine prices barely budged when the stock market plunged during the 2008 financial crisis.
This means that it can act as a portfolio diversifier, reducing the overall risk of an investor's portfolio, delivering stability, growth, and protecting wealth.
Long-Term Performance
Fine wine has an overall return of around 9 to 10% per year. Over the past 2 decades, between July 2001 and July 2021, the Liv-Ex 100, the benchmark for the fine wine market, returned 270.7%, thus outperforming the S&P 500 by 8%, without dividends reinvested.
The Liv-ex Fine Wine 100 Index is the industry-leading benchmark. It represents the price movement of 100 of the most sought-after fine wines on the world's most active and liquid marketplace from France, Italy, the USA, Australia and Spain.
Tangible Asset
Fine wine is a 'real' asset with a finite supply. Unlike cryptocurrencies and NFTs, investment-grade wine cannot be created with a few lines of code; it's a physically wasting asset, thus increasing its investment appeal.
In uncertain times, physical assets are often perceived as offering a stable source of value. Stock prices can crash, and businesses can shutter, but tangible assets like wine cannot cease to exist.
Passion Asset class
Notwithstanding the monetary aspects of wine investing, wine is considered a passion asset akin to classic cars, rare coins, or luxury watches. People who buy investment-grade wine also enjoy ownership of the asset and can value the actual wine more than market returns.
Wine occupies prestige in people's lives, being used for formal occasions, business occasions and gifting, representing the idea that there is more to fine wine than monetary returns.
What Are The Disadvantages of Wine Investing?
While wine investing has numerous advantages, there are some shortcomings that you should know about.
Wine is a Long Term Investment
Wine as part of your investment portfolio should be considered a long-term investment. like real estate investing,
Limited Secondary Market
Unlike investing in the stock market, you cannot easily or quickly sell your wine investments. Some investing marketplaces like Vinovest offer a secondary market for trading wine, but it can still take up to 3 weeks to sell your wine.
You Can't Escape The Tax Man
In general, any wine investment is subject to a collectibles tax, which is 28% if held for more than 1 year for those in the U.S.
There's a common misconception that you are not required to pay taxes. However, that idea is founded on laws and regulations for individuals in the U.K., not U.S.-based persons.
Storage Costs
Investment-grade wine must be stored safely and correctly to protect its value. You cannot simply purchase investment-worthy wine and store it in your kitchen cabinet.
Wine needs to be kept in a cool dark place with limited disturbance. Your options are limited unless you want to fork up $15,000 for a custom wine cellar.
Luckily many wine merchants often work with a warehouse supplier to store wine on behalf of clients, like the wine investing platform Vinovest does.
What Influences The Price of Wine?
Unlike commodities such as gold and silver, wines are made unique by their location and year of production, and, once consumed, they cannot be replaced, thus making that vintage increasingly rarer.
The most important factors that affect wine prices are Maturity, Scarcity, and Brand Equity.
Maturity
Investment-grade wines take 10-15 years to mature, in general. A 12-year-old bottle of Bordeaux will generally be more valuable than a 2-year-old bottle. Like wine you see at a spirits store, the older the bottle, the more expensive it is.
Vintage (Scarcity)
Wine vintage is the year the grapes were harvested. Vintages are impacted by weather patterns and harvest yields, making each vintage taste unique.
A cold spring can keep vines from budding, and low sun can prevent fruit from ripening. The weather can positively or negatively impact a wine's taste, making it more or less desirable.
Once a vintage is bottled, that's the end of the supply. As time passes and the vintage gets consumed, the remaining bottles become more challenging to locate, especially wines with a desirable vintage. Therefore, demand increases, so the price of that vintage will increase.
Brand Equity
Like a Louis Vuitton bag, established wine brands fetch an above-market price. Wines made in the Bordeaux region, Burgundy, Rhone Valley, and Tuscany in Italy tend to increase in value over time.
What Kind of Returns Can You Expect?
In general, wine fine returns 9% – 10% per year. Like some high-flying Tech stocks, some wines skyrocketed in value:
Over the past 2 decades, between July 2001 and July 2021, the Liv-Ex 100, the benchmark for the fine wine market, returned 270.7%, thus outperforming the S&P 500 by 8%, without dividends reinvested.
That said, there is currently no way to invest in the performance of the overall wine market, like you can in the S&P 500, through an ETF like VOO or SPY, so individual performance is subject to significant volatility.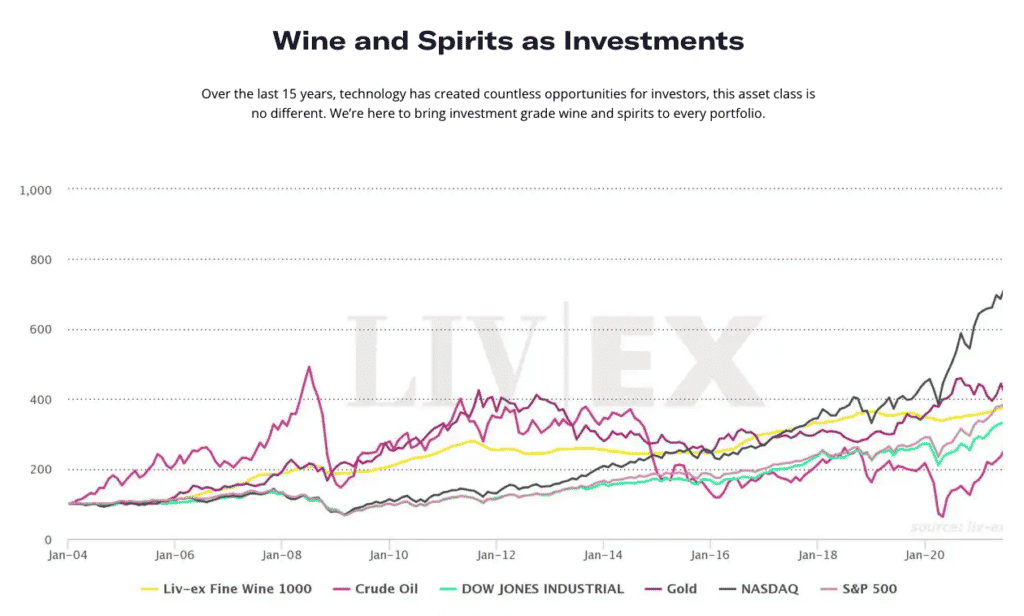 Wine Market Cycle
The fine wine market experienced several up-and-down cycles over the past 15 years.
The industry benchmark Liv-ex 100 dipped 20% during the financial crisis of 2008 before climbing 70% by mid-2011, mainly owing to the enormous fiscal stimulus in China from 2009.
Wine prices fell in 2011 as buying in Asia almost halted. A weakened sterling contributed to a "Brexit" boost to the market from mid-2016 as international buyers capitalized on the cheaper stock in the U.K.
And in March 2020, the start of the Covid-19 pandemic led to slight declines in fine wine prices, which then quickly recovered and gathered momentum in the year's second half.
What Are The Best Wines Right Now?
Historically, the Bordeaux and Burgundy regions in France dominated fine wine investing. But there is increasing demand for wines in northern California and South America.
Below is a list of the best-performing wines in the first half of 2022, according to Liv-Ex, the benchmark sourcing for wine market data.

How To Invest In Wine
The easiest way for beginners to invest in wine is through a marketplace like Vinovest, which algorithmically selects a portfolio of wine based on your risk tolerance.
You could also invest in wine and spirits, but that kind of losses the essence of wine investing.
Lastly, if you are a true pro and want to speculate on wine prices, you can buy wine futures, but investing in wine futures isn't for beginners, per se.
How To Invest In Wine:
Wine Investing Platforms
Wine Stocks
Wine Futures
Online Wine Auctions
[Note: Buying investment grade and trying to store it yourself is not a great idea. You need to build a wine which can cost upwards of $15,000]
Wine Investing Platforms
The easiest way to start investing in wine is through a wine investing platform. In addition to helping you purchase investment-grade wine or securities, these platforms also provide storage, insurance, and authentication, making them an excellent choice for new wine investors.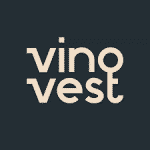 Vinovest
A fine wine investing platform that provides access to non-accredited and accredited investors the ability to invest in physical bottles of investment-grade wine with a low minimum investment of $1,000.
After you complete a 1-minute questionnaire, Vinovest builds a personalized wine portfolio aligned to your investing goals.
Vinovest is an excellent choice for beginners who want the monetary returns of wine but wouldn't mind drinking it, too, should they please.
Vint
A one-of-a-kind wine investing platform that offers fractional ownership of fine wine collections through SEC-qualified shares. Unlike Vinovest, you purchase securities backed by physical bottles of wine.

Vint is open to accredited and non-accredited investors, with a low minimum investment of $25.
Vint is an excellent option for investors purely interested in the monetary returns wine can offer.
Cult Wines
The biggest and oldest player in wine investing. London-based Cult Wines has been around since 2007 and has $320 million in wine assets. Cult wines help investors purchase physical bottles of wine, which are then stored on behalf of the client by Cult.
Cult wines recently pushed into the U.S. market. Unfortunately, their $10,000 minimum investment makes their platform out of reach for many would-be wine investors.
Wine Futures
Wine Futures, known as 'en primeur' in the wine investing lexicon, is buying wine while it is still in the barrel, essentially betting that the wine will go up in value once it is released.
Investing in wine futures isn't for beginners, per see, but it is common for serious wine investors to speculate on the price of wine. You can buy wine futures up to 18 months before bottling.
Wine Stocks
Brown-Froman is the brand responsible for household wine and spirits like Jack Daniels & Korbel. Brown-Froman trades on the New York Stock Exchange under the ticker (BF.B). As of this writing, its year-over-year revenue is up 11.15% to 1.01 billion.
Constellation Brands is one of the largest global wine, spirits, and beer producers. Constellation is behind labels like Robert Mondavi, Kim Crawford, and Meiomi.
This company is publicly traded on the NYSE under the ticker STZ.
Online Auction Wine
Over the past few years, online auctions have also gained popularity through sites like VinFolio and WineBid.
These sites generally emulate the eBay format, offering time-limited auctions continuously. Costs for buyers vary widely, from free to 20%.
Bidding in an online wine auction is not suitable for beginners.
Is Investing In Wine A Good Idea?
Investing in wine is good for…
Investing in a passion asset
Providing non-correlated returns to the stock market
Investing in wine is not good for…
Individuals who cannot lock up their money for extended periods.
The Bottom Line
Like any alternative asset, I wouldn't liquidate my 401K and invest it all in 10 cases of petite Rothschild.
But as part of a larger investment strategy, diversification is critical, especially if you are passionate about wine or interested in learning about the wine market.
Investing in physical bottles of wine through a marketplace like Vinovest is an excellent place for beginners. Even if your wine bottles lose value, you can drink them and become a little more sophisticated (wink).
Cheers.