This review will look at CrowdStreet, a popular commercial real estate crowdfunding platform. We'll discuss an overview of the company, the PROs and CONs, and whether CrowdStreet is right for you.

PROS
5% of opportunities listed
Direct access to individual properties
Well-designed user platform
CONS
High minimum investment
Only open to accredited investors
At a glance:
| Key Features | |
| --- | --- |
| Overview: | Real estate investing platform that connects individual investors with real estate sponsors to invest in individual investment properties. |
| Minimum Investment | Starts at $25,000 |
| Fees | 1.50% for REITs varies for individual properties. |
| Returns | 19% IRR to date |
| Property Types | Multifamily, retail, office, industrial, and land opportunities. |
| Account Types | Individual, Joint, IRA, LLC (Depends on the deal) |
| Investment Type | Debt, Preferred Equity, Equity |
| Dividend Reinvesting | No |
| Open To | Accredited investors only |
| Liquidity Options | No |
| Mobile App | No |
| 1031 Exchange | No |
Noteworthy Features
Rigorous Vetting Process. As of this writing, only 5% of investment opportunities have made it onto the CrowdStreet Marketplace.
Direct to Investor Model. A direct-to-investor model means investing directly with the sponsor itself, not through an intermediary. Many other real estate platforms operate as an SPV to investor model. The SPV is usually an LLC. This means that you are investing with the LLC, which, in turn, invests with the sponsor.
Therefore, individual investors are exposed to platform risk. If the SPV (LLC) runs into financial trouble, you could lose your investment because you are invested with the SPV and not the sponsor directly. In addition, a direct-to-investor model could result in lower fees typically associated with maintaining an LLC.
Easy to use interface. The CrowdStreet marketplace makes browsing and filtering investment options that fit your investment needs easy. Once you are invested, you can view your open investments in the portfolio tab of your account. If you have additional questions or are looking for fund information, you can use the "Investor Room" to find additional details.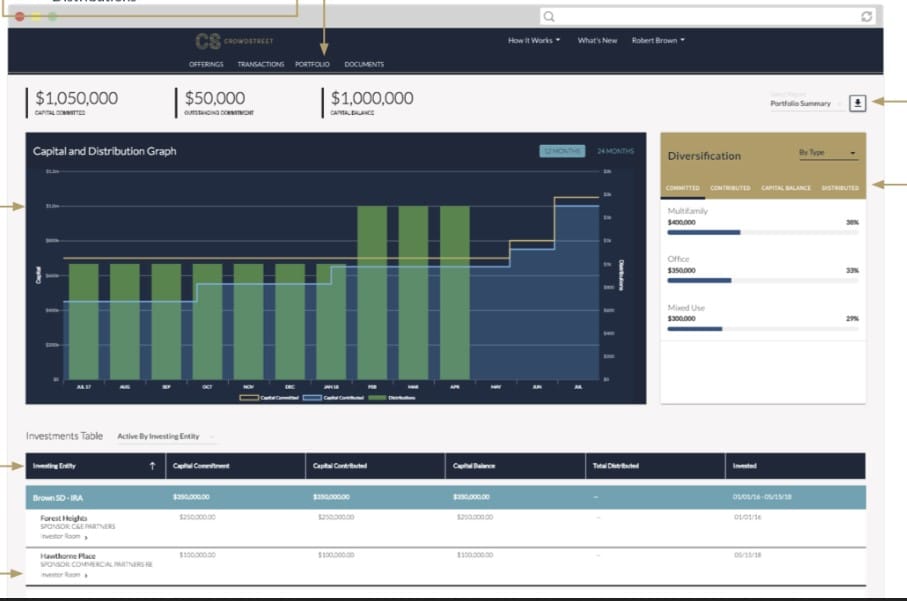 What is CrowdStreet?
Crowdstreet is a real estate crowdfunding platform that connects accredited investors directly with real estate sponsors. Individuals can invest directly in a wide range of commercial real estate properties or through the CrowdStreet commercial real estate REIT.
Since its inception, $3.4 billion has been invested through CrowdStreet across over 600 deals.
CrowdStreet returned 19% IRR historical performance based on fully realized deals.
The company was founded in 2012 by Darren Powderly, who has over 20 years of experience in real estate and has been involved in billions of dollars worth of real estate transactions.
How does investing with CrowdStreet work?
Once you open an account, you can browse open investments and their associated investment metrics and Sponsor details. Before an investment is listed on the CrowdStreet platform, the investment opportunity undergoes a rigorous deal review process. To date, only 5% of opportunities were ultimately approved and open for investing on the CrowdStreet Marketplace.
There are 3 ways to invest with CrowdStreet: Individual Properties through the CrowdStreet Marketplace, the CrowdStreet REIT I, a portfolio of 20-25 commercial properties, and a tailored portfolio built with an advisor that requires a $250,000 minimum. Some investments allow you to invest through an IRA, others through a 401K, but retirement account investing varies from investment to investment.
Most individual investments target a hold period of 3 -5 years, while some may target a holding period of up to 10 years. Historically, most investments are held for 2.9 years on average. Crowdstreet does not offer any early redemption or liquidity features if you want to exit your investment early.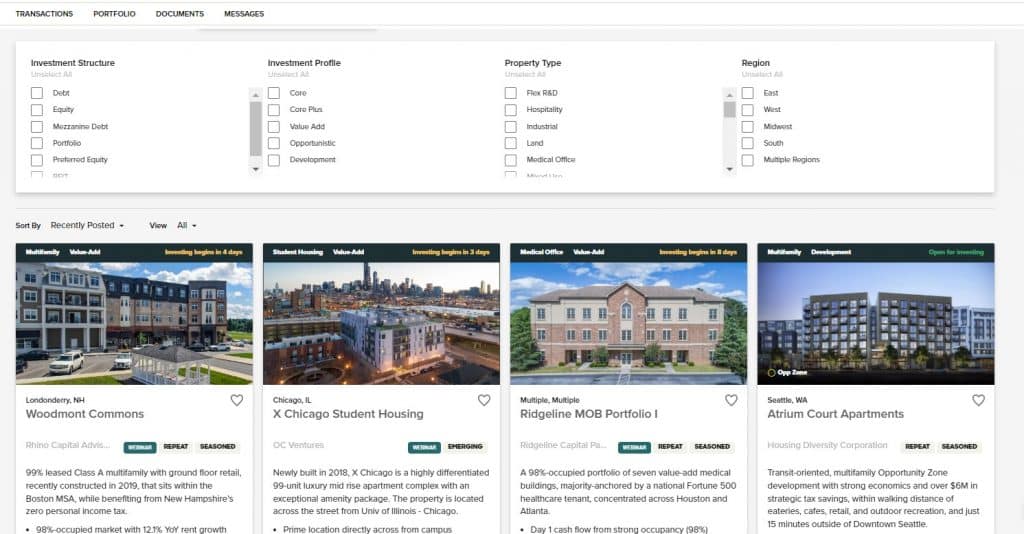 Investment Options Explained
Most investment opportunities on the CrowdStreet platform fall within 4 risk profiles: Opportunistic, Value-Add, Core-Plus, and Core.
Opportunistic Investments. Target the highest returns but also have the most risk.
Value-Add Investments. Aim to increase cash flow and property value over time by significantly improving the property.
Core-Plus Investments. High-quality properties that are mostly occupied but set aside some of the monthly cash flow for future maintenance and upgrades.
Core Investments. The least risky type of investment. Core investments have stable, predictable cash flow and are usually fully occupied with no need for major improvements.
Value-Add Investments are the most common type of offering on the CrowdStreet Marketplace.
During your investment selection process, you can reach out to CrowdStreet's experienced Investor Relations team, who can guide you through any questions you may have.
After you make your investment(s), the sponsor (not CrowdStreet) is responsible for making all day-to-day decisions, such as when to sell a property or how much profit to distribute to investors.
Are there any fees?
There are no fees to sign-up for CrowdStreet, and they do not charge any fees for individual property investing. However, you may be charged fees through the sponsor you are investing with. All investments listed on the CrowdStreet Marketplace are net of fees, meaning the targeted IRR is after any fees charged by the sponsor.
Instead of charging fees to investors, CrowdStreet charges sponsors a fee to list their investments, and they also sell their software to sponsors.
If you invest in the CrowdStreet REIT, there is a 1.5% management fee based on the NAV of the fund. If you have more than $250,000 to invest, you can sign-up for CrowdStreet's tailored portfolio that is built with an advisor – fees can range from 0.25% – 2.50%.

CrowdStreet Fees
Individual property fees: Varies depending on the deal
REIT fees: 1.50%
Tailored portfolio: 0.25% – 2.50%
The fees charged by sponsors and the REIT management fee are generally on-par with other real estate investment platforms. (insert citation)
PROS and CONS
CONS
High minimum investment
No liquidity options
Only open to accredited investors
PROS
Direct access to individual properties
Rigorous deal review process (5% of opportunities listed)
Well-designed user platform
Who should invest with CrowdStreet?
Crowdstreet is a good option for…
Accredited investors who want concentrated risk exposure e.g., individual properties with a 3+ year investment horizon
Crowdstreet is not a good option for…
Investors looking for liquidity, a diversified investment, or have a short-term investment horizon.
CrowdStreet Alternatives
Real estate is 3rd largest asset class in the United States, and a wide variety of real estate investment options are available. If you are unsure if CrowdStreet is right for you, below are some popular CrowdStreet alternatives.
| | | | |
| --- | --- | --- | --- |
| | | | |
| | | | |
| | 1.5% for REITs, varies for individual properties | | |
| | | | |
| | | | |
| | Residential Single Family | | |
| | | | |
In addition, there are 2 other sites to find syndication deals that are targeted at accredited investors. I don't know much about them, but other investors have mentioned them: Bigger Pockets (BP) and Private Investor Club (PIC).
The Bottom Line: Is CrowdStreet worth it?
If you are an accredited investor, CrowdStreet is worth checking out. They are one of the few real estate platforms with a direct investor to sponsor business model. However, given the long investment timeline and no liquidity options, it's definitely not for the faint of heart.
Frequently Asked Questions