This article includes links which we may receive compensation for if you click, at no cost to you.
What Is Ladder?
Founded in 2015, Ladder is a California-based, privately held company that offers flexible Term Life Insurance as your needs change. In 2018, they partnered with Personal Finance Company SoFi.
PROS OF INSURANCE FROM LADDER

Laddering
The ability to decrease or apply to increase your coverage as needed.
Example of how Laddering works:
Say you just got married to the love of your life, you just closed on a new home, and have a child on the way. You can opt for a ,000,000 policy, for example. Fast forward 5 years later, you make a large dent in your mortgage balance, have saved aggressively, and paid off your student loans. So, perhaps you really only need 0,000 of Life Insurance. Ladder will allow you to amend your policy amount down and subsequently, your monthly premium amount will decrease proportionally as well. This is what they call Laddering. A pretty great feature in my book.
This is what they call Laddering. An amazing feature in my book and the main selling point for me.
No Limit to the number of times you can Ladder Up or Ladder Down according to the Ladder Life website
Laddering is totally free. Obviously, if you Ladder Up your premium will increase
Only Life Insurance company in this space that offers this kind of flexible coverage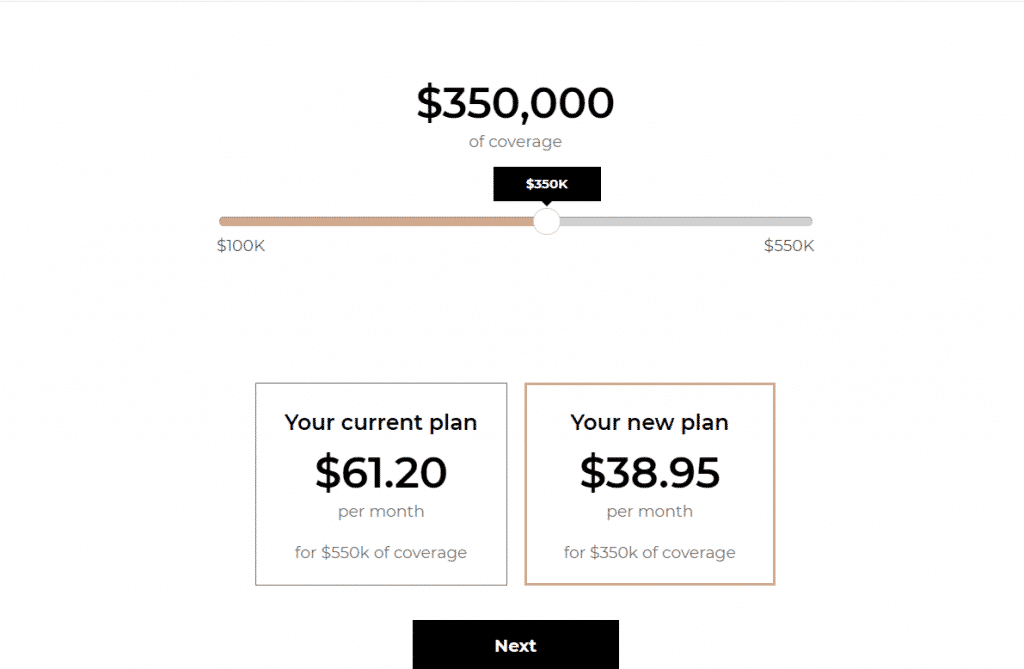 Easy Online Application Process
Ladder's application process is completely online if you apply for a coverage amount of ,000,000 or less. Additionally, their online portal is very straightforward and easy to use. Plus they recently released the Ladder app for iOS for the mobile-first world.
Medical Exams for Life Insurance
Medical exams are not required for applicants seeking coverage up to M – Just answer a few health questions on the application. If applying for more than M in coverage, you may be asked to complete a health check. My wife and I did qualify for coverage without an exam.
Money Back Guarantee
If you are unhappy with your policy for any reason, you can cancel your policy within the first 30 days for a full refund. After that, they allow you to cancel at any time without any cancellation fees.
Excellent Customer Service
The Ladder support team are salaried employees, not commission-based agents. So you don't have to worry about any pushy sales agents or commission-based employees. They have a dedicated Ladder customer service line. They also have a live chat feature with real humans – a huge plus!
Cons of Insurance from Ladder

No Riders or supplemental coverage
If you are looking for a Rider e.g. Guaranteed Insurability or Supplemental coverage, Ladder does not offer it.
No Permanent Life Insurance Option
In many cases, term life insurance is sufficient, so not a huge deal in my book. Many people only need life insurance for a certain term. For example, a term policy may be needed until you paid off your mortgage, have adequate retirement savings, or your kids are out of college. Also, permanent life insurance is often 3X – 10X more expensive than term policies. Permanent life insurance provides additional features and could be valuable for the appropriate individual.
Life Insurance coverage is not available for those over 60
Ladder Life offers coverage only for those between the ages of 20 and 60.
More expensive than other online insurers
I did an online comparison for a 0,000 20 Year Term 32M non-smoker at Ethos Life and it was per month vs at Ladder. However, Ethos does not offer the Laddering feature, which is probably a factor as to why Ladder's policy quote was a bit more pricey. So, Ladder is more expensive, but you also get a very useful feature (Laddering). Make your choice.


Frequently Asked Questions
I've never heard of this company before, how do I know they're legit?
Ladder's policies are issued by well-known companies with Superior ratings issued by A.M Best Company, an independent analyst of the insurance industry. This should give you confidence in Ladder insurance policies and that the policy issuers are capable of paying any policyholder's claims.
Allianz Life Insurance Company of North America Rated: A+ (Superior)
Allianz Life Insurance Company of New York: Rated: A+ (Superior)

Ratings affirmed October 2021

Ladder's policies are issued in New York by Allianz Life Insurance Company of New York, New York, NY (Policy form # MN-26) and policies issued in all other states and DC by Allianz Life Insurance Company of North America, Minneapolis, MN (Policy form # ICC20P-AZ100 and # P-AZ100). Only Allianz Life Insurance Company of New York is authorized to offer life insurance in the state of New York. Ladder California license number OK22568.

How much life insurance do I need?
Ladder offers a helpful insurance calculator to determine how much insurance you may actually need. Remember, with the Laddering feature, you can increase or decrease your coverage at any time for any reason.
For reference, I am 32 with no kids or large expenses and I have a 0,000 20 year term policy.
On average, it's recommended to get 10 times your annual salary in life insurance coverage.
Health-Related Application Questions
They will ask you basic questions as any typical insurance company will. For example:
Birthday
Height
Weight
Gender
When was the last time you used nicotine or tobacco?
Types of Coverage Ladder Life Offers
Ladder Life offers term policies 10, 15, 20, 25, 30 years. Coverage amounts range from 0,000 – ,000,000.
Why Do I need Life Insurance when my employer offers it?
Yes, it is true, many employers offer Group Term policies to their employees. However, not all policies are portable. Portability means that if you leave your employer, you can convert the group policy into an individual policy.
When I left my last job, my policy was portable. However, in order to convert it, they sent me a stack of papers as thick as a small book to fill out. No Thank you.
Alternatives to Insurance from Ladder
| Company | Best For |
| --- | --- |
| Ethos | Individuals who need less coverage or may not qualify with other insurers if they have less than ideal health. |
| Ladder | Those who want flexible term policies |
| Fabric | All-in-one family planning (insurance, wills, savings account) |
Final Thoughts
I would definitely recommend life insurance from Ladder. That said, be sure to compare any competitors before making a final decision.
However…
The Laddering option is a huge benefit in my book and was the main selling point for me. If you think your insurance needs will change over time; you will start a family, buy a house, get married, or have any other life-altering event, then Ladder Life is the right move for you.
Ladder's application process is quick, seamless, and gives all the coverage most people need. Remember, "It doesn't matter until it does."
Be sure to start your application now and be approved in minutes.
Cheers,

.