Arrived Homes is a real estate investing platform that lets you buy fractional shares in long-term and vacation rental properties with a low minimum investment.

Quick Summary:
A single-family long-term and vacation property investing platform with a low minimum investment.

Overall Rating:
PROS
Low $100 minimum investment
Recreates economics of traditional property ownership
Investment taxed as REIT


CONS
Limited track record (founded in 2019)
No dividend reinvestment features
Non-recourse loans tend to have higher interest rates on properties that have financing
In this Arrived Homes Review, we'll look at this nascent long-term rental and vacation real estate crowdfunding platform that allows non-accredited investors to invest passively in real estate for just $100.
At a Glance:
Minimum Investment: $100
Investment Options: Long-term rentals, vacation rentals
Investment Horizon: 5 – 7 years
Returns: 2.4% – 8% in annual dividends (historical)
Sourcing Fee: 3 – 6% of property purchase price
Asset Management Fee: 1% of rental income
Account Types: Individual Accounts, LLCs, Trusts, Corporations, Self-directed IRAs and solo 401(ks) (partners with Rocket Dollar)
Dividend Reinvestment? No
Early Redemption Features: Pending Regulatory Approval
What is Arrived Homes?
Arrived Homes is a real estate crowdfunding platform that enables individuals to invest in shares of long-term rental and vacation properties while passively earning income from rent and potential property appreciation.

This real estate investing platform is backed by serious players in the Venture Capital world, including funding from Jeff Bezos's VC arm, Bezos Expeditions.
The company was founded in 2019 by tech veterans Ryan Frazier, who is also the CEO, Kenny Cason, and Alejandro Chouza.
Since its inception, Arrived has funded over $65 million worth of transactions across over 185 properties.
Arrived Homes is headquartered in Seattle, Washington.
How Does Arrived Homes Work?
Arrived homes allows individuals to buy shares in single-family long-term rental and vacation homes owned and entirely managed by Arrived.
Instead of buying an entire rental property, investors can buy fractionalized shares of an investment property and receive a pro-rata portion of rental income and potential property appreciation, less any expenses and fees.
Arrived takes full operating responsibility for the rental property, including finding and vetting renters, dealing with maintenance, repairs, payment collection, and any ad-hoc tenant requests or concerns.
Arrived budgets for ongoing operating expenses, both planned and unplanned. They maintain a cash buffer equivalent to approximately 2% of the property value that can be used in the case of an unexpected tenant vacancy or expense.
In addition, Arrived Homes also budgets for expenses like property tax, insurance, and maintenance. Expected dividends are quoted net of operating expenses.
Investment Options
Arrived Homes offers a wide range of long-term rental and vacation properties across the United States while targeting a 5 -7 year holding period.
Through the Arrived Marketplace, you can filter and sort properties based on property location, neighborhood quality, long-term rental vs. vacation rental, return type, amount of leverage used, and much more.
1) Filter and find real estate investments that suit your goals
Property Location
Neighborhood Quality
Long-Term vs. Vacation Rental
Return Type (Appreciation, Balanced, Dividend Focused)
Leverage (None, Low, Medium, High)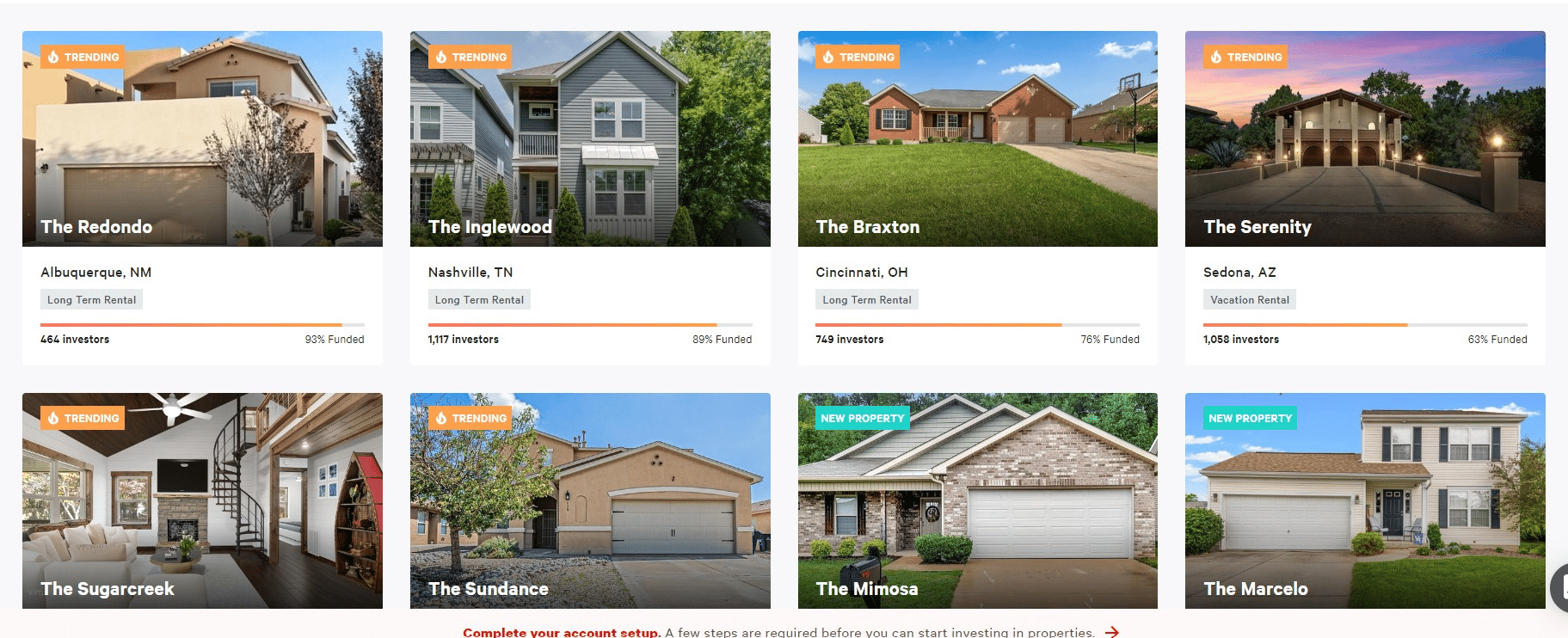 2) Once you find a property that piques your interest, you can drill down to view a detailed property analysis.
The research includes helpful information like targeted and historical returns for that market, property location, images of the actual property, and offering details, including the purchase price and associated fees.
Arrived does not list information serious real estate investors would be interested in reviewing, like the purchase agreement, inspection report, and appraisal. Hopefully, Arrived Homes will add these details in the future.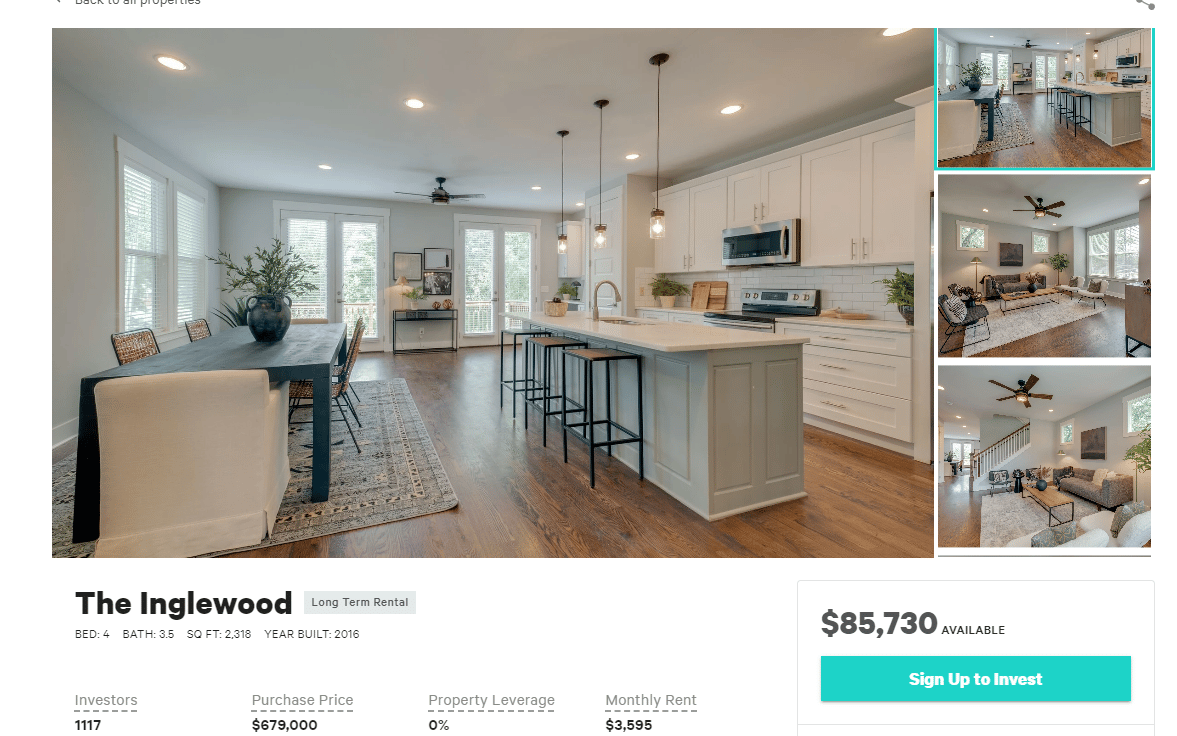 Partial Property Ownership Explained
When you purchase shares in an Arrived home offering, you buy ownership in a Series LLC that owns the home.
The LLC protects shareholders from personal liability and allows the investment to be taxed as a REIT, which provides valuable tax benefits for investors. Furthermore, the LLC structure allows Arrived to fractionalize the homes into shares for investing.
Partial Ownership Example
If you purchase 1% of the shares in a single home offering, you are entitled to 1% of any quarterly dividend distributions and 1% of any increase in the price per share or proceeds when the property is sold.
Arrived Homes manages all aspects of property management, while investors have no operational responsibility.
The Arrived Homes business model recreates the economics of traditional home ownership without the hassle.
Fees & Pricing
There are no fees to open an account or other recurring fees; you only incur fees once you invest. Arrived charges main 2 types of fees, a sourcing fee and an asset management fee, plus some ongoing fees.
Sourcing Fee
A one-time fee charged to investors to help cover the work required to source properties and holding costs incurred while preparing a property for investors. I reviewed a handful of properties, and the sourcing fee ranges from 3% – 6% of the purchase price.
The sourcing fee for each property is listed in the offering details section of each property page.
Meanwhile, other arrived homes reviews did not mention this, but the service fee is reasonable. Another rental investing platform, Here.co, charges up to a 16% sourcing fee.
Asset Management Fee
1% paid quarterly out of rental income to investors. The 1% asset management fee is on par with other real estate crowdfunding platforms like Fundrise.
Property Management Fee
8% of rental income. The property manager does not collect a fee if the property is not rented. Standard property management fees range between 8% – 12% for individual properties, so I thought Arrived would have been able to negotiate a lower management fee due to the volume of properties they manage.
Disposition Fee
If a property is sold, investors will pay a disposition fee of 6-7% of the sale price. The disposition fee covers brokerage commissions and title escrow, and closing costs.
Selling Your Shares
Real estate, in general, is considered a long-term investment, and Arrived Homes is no exception.
While the company targets a 5 – 7 year holding period, Arrived has plans to offer a redemption program, pending regulatory approval.
If approved, investors can liquidate their shares every quarter if held for at least 6 months.
But it's important to note that share redemptions may be subject to early redemption fees, and Arrived does not guarantee that redemptions will always be possible. Early redemption fees can significantly eat into potential returns, so I wouldn't plan on investing without holding until the rental property is sold.
Returns & Historical Performance
Since its inception in 2019, Arrived Home investors have earned between 2.4% and 8% in annual dividends, not factoring in any potential property appreciation.
All open investments will list their anticipated returns on the offering details page, and all anticipated dividends are quoted after operating expenses.
Because Arrived homes is still in its infancy, this real estate investing platform has yet to realize any returns through property disposition (sales).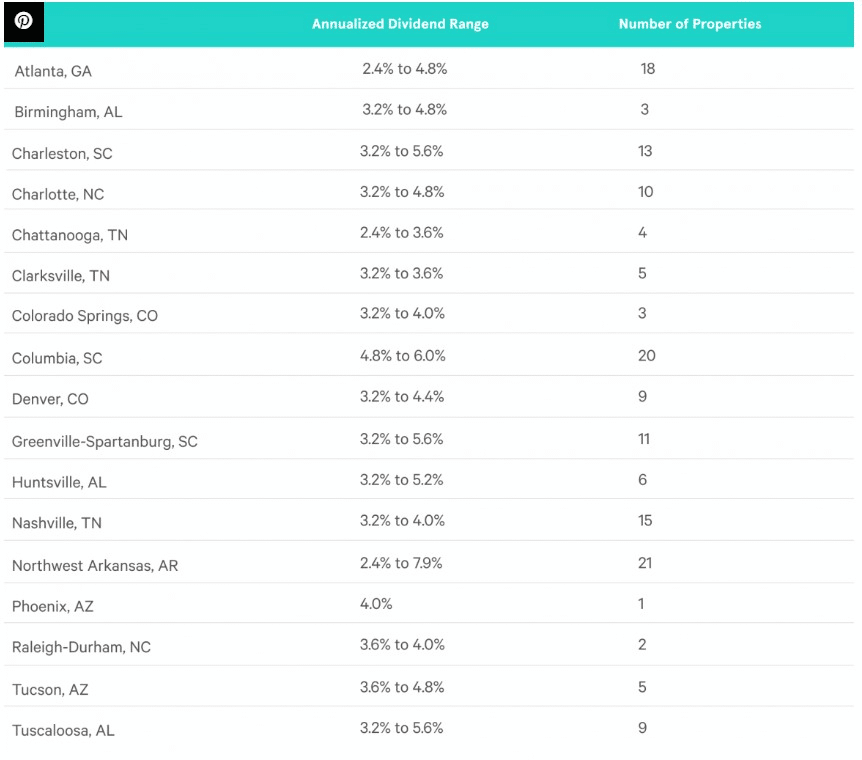 To provide some context, over the last 20 years, single-family homes in the United States appreciated an average of 3.9% per year.
Many factors determine how much money you can make investing through Arrived Homes. Local market dynamics and general economic conditions weigh significantly on individual property returns.
And while it's never guaranteed, the historical returns show a 4.7% – 12.8% combined annual return on investment from investing in rental homes.
This potential highlights the unique value-add of single-family homes and a way to add diversification and reduce volatility in your overall investment portfolio.
How Do I Open An Account?
Once you find a property that suits your needs, you can open an account in under 4 minutes and start investing.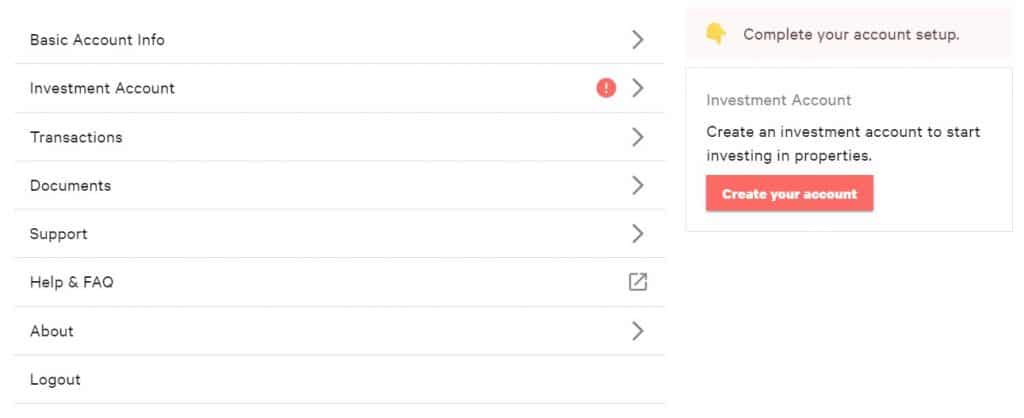 To open an account, you must be at least 18 years old and a U.S. citizen or resident. But unlike other real estate investing platforms, you don't need to be an accredited investor with Arrived.
Investments can be made through individual accounts, LLCs, Trusts, and Corporations. Through Arrived's partnership with Rocket Dollar, you can also invest through self-directed IRAs and Solo 401(k)s.
Browse Homes – Investors browse the available Arrived homes open to new investors and already pre-vetted based on their income potential.

Select Shares – Investors determine how much money they want to invest in each home and select shares.

Sign & Invest – Investors review the terms, sign an online contract, and fund the investment by linking their bank account

Earn Income – Investors sit back and collect their share of net rental income and participate in the property value appreciation.
Who Should Invest With Arrived Homes?
Arrived homes is good for…
Investors who want to dabble in real estate investing without committing large amounts of capital.

Portfolio diversification
Arrived homes is not good for…
Investors who cannot commit to locking up their money for 5 – 7 years
Best Alternatives
With a minimum investment of just $100 and accessibility to non-accredited investors, the barriers to investing in single-family rentals through Arrived Homes are low. But its limited track record (founded in 2019) could be a reason for apprehension for some potential investors.
Many other real estate crowdfunding platforms offer a wider breadth of investment options with unique and helpful features.
| Feature | | | |
| --- | --- | --- | --- |
| Overall Rating | | | |
| Minimum Investment | $100 | $10 | $10 |
| Fees | 1% Asset Management Fee | None, borrower pays | 1% Asset Management Fee |
| Property Types | Single Family & Vacation Rentals | Residential Fix and Flip | Commercial REITs |
| Types of Accounts | IRAs, Solo 401K | IRAs | IRAs |
| | | Read Review | Read Review |
Groundfloor is my favorite real estate crowdfunding platform. Groundfloor provides short-term loans to real estate flippers. With an average loan duration of 10 months and average interest of around 10.8%, coupled with a low $10 minimum investment, it's a way to get your feet wet in real estate investing without committing for an extended period or a lot of money.
Fundrise is another popular real estate investing platform. One of the oldest online real estate investing platforms around, Fundrise allows you to invest in a wide variety of REITS and Funds with various investment strategies, from Midwest REIT strategies to commercial real estate investments; there is an option for everyone.
Fundrise also has a minimum investment of just $10, but like Arrived, it requires you to lock up your funds for at least 3 – 5 years.
Is Arrived Homes Worth It?
Arrived homes offers a unique business model, unlike most other real estate crowdfunding platforms.
Because real estate crowdfunding is a great way to invest in real estate without becoming a landlord, with a minimum investment of $100, you can give Arrived Homes a try without putting a substantial amount of your capital at risk while also gaining exposure to an unfamiliar real estate market.
But make no mistake, while Arrived markets itself as a hands-off investing platform, you are paying for that "passivity" in the form of management and service fees.
That said, given its limited operating history, I certainly wouldn't liquidate my 401K or 403B and invest it in real estate, but if you want to explore other alternative investments as part of your diversification strategy, investing with Arrived Homes is worth a shot.
Frequently Asked Questions