In this Stairs App Review, we'll talk about Stairs, which offers a set it and forget it approach with the ability to earn 600x more than a traditional savings account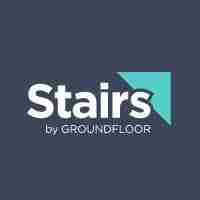 Earn 4 -6% by "Savesting" with GROUNDFLOOR
Key Takeaways
Earn 4 -6 % Interest pre-funding loans secured by real estate
No minimums. Invest with just $1
Available to non-accredited investors
Mobile app available
Withdraw funds at any time
No fees
No FDIC Insurance
Alternative to investing in the stock market
What Is Stairs By GROUNDFLOOR?
Stairs is a new "Savesting" platform offered by wealthtech company GROUNDFLOOR a platform that allows its participants to earn up to 6% APY to fund GROUNDFLOOR's loan origination platform.
Stairs by Groundfloor is a mobile-only app available in the Apple and Google Play stores.
How Does Stairs Work?
Real estate loans secure stairs investments before they are open for crowdfunding on GROUNDFLOOR's loan platform.
Immediately funding loans as soon as due diligence is completed, but before the loan is fully funded, is known as pre-funding.
Pre-funding is quite common in the real estate field. Being able to receive funding without delays is imperative in the real estate world. Otherwise, a deal can sit dormant, waiting for funding, which in some cases, can be 30 – 90 days. And in the real estate industry, time is of the essence.

The real estate loans securing the notes are typically swapped out every 30 days (usually the amount of time the deal is live on the crowdfunding platform).

The notes automatically repay and reinvest every 5 days. Users can withdraw their funds at any time.

About GROUNDFLOOR
GROUNDFLOOR is a real estate investing and lending platform. The company's primary product is short-term residential debt instruments. Groundfloor is a marketplace that brings together real estate developers and entrepreneurs looking for financing to complete their projects with everyday investors around the country that are looking for ways to invest and build wealth.
The company thoroughly vets the borrower's experience, creditworthiness, business plan and assesses the property value on an as-is and as-improved basis.
GROUNDFLOOR was founded in 2013 by Brian Dally and Nick Bhargava and is headquartered in Atlanta, Georgia.
In 2020, the company was featured in Inc Magazine's list of 5,000 fastest-growing privately-held companies in America and Deloitte Technology Fast 500, which honors the fastest growing technology, media, telecommunications, life sciences, and energy tech companies in America.
Pre-funding Explained
Prefunding is common in real estate and other asset-backed investments. When a company prefunds a deal, it is inherently likely to perform a higher level of due diligence.

This is true because they are funding the loan before it even sells on their platform. Furthermore, if a company doesn't stand behind its due diligence and puts all loans on its platform, and hopes for the best, the entire business model would likely fail.

Plus, prefunding attracts the best investment opportunities. After all, who would want to sit for 30 – 90 days on an investment property before they can start working?

In addition, if the developer is using the money to purchase an investment property, the dormant time may cause them to lose out on an opportunity.
What Interest Rate Will I Earn?
With the Stairs App, all deposits earn 4% at inception. If you set up reoccurring transfers, you will earn an additional 1%. And if you also turn on round-ups, Stairs will round purchases made with your authorized account to the next whole dollar and add that amount to your stairs account, which will add another 1% to your interest rate.
So, you could earn either 4%, 5%, or 6% depending on whether or not you enable reoccurring transfers and round-ups.
The additional 1% interest rate goes into effect 90 days after reoccurring transfers and or round-ups are activated.
Using The Stairs Mobile App
The stairs mobile app is incredibly user-friendly. If you are already a GROUNDFLOOR user, you can use your credentials to log in to the Stairs app. You do not need to register for a new account or link to a new bank account. However, it is currently not possible to transfer funds between GROUNDFLOOR and Stairs.
While Stairs and GROUNDFLOOR accounts can share a linked bank account, it is currently not possible to transfer funds between the two platforms.
Signing up took a matter of minutes. Deposits settle in 1 – 3 business days.
The app shows 3 months, 6 months, and 1-year portfolio projections as well as a graphical representation. Plus, they offer a nifty projection tool to forecast your balance using user-input assumptions.
Lastly, there is a live interest tool that shows your interest earned by the seconds (Bravo to whoever came up with that idea).
Is The Stairs App Legit?
Yes, Stairs is legit! Stairs is offered by GROUNDFLOOR, which has been around since 2013. There are 100,000 users registered on the GROUNDFLOOR platform. The company has seen investment sales of over $570M and has processed over $1B in transactions on the platform.
Furthermore, GROUNDFLOOR loans are converted into investment securities (LROs) and qualified by the U.S. Securities and Exchange Commission (SEC).
This means that Groundfloor's investment offerings are subjected to increased oversight by the SEC, which in turn provides a high degree of protection to investors.
What Risks Are Associated With Stairs?
While Stairs markets its platform as an alternative to standard savings accounts with higher interest rates, the higher yield does not come without the associated risks.
Though not FDIC insured, the combination of a security interest in a pool of loans, shorter holding period, and fixed repayment date present a low risk profile, making them an attractive investment option for those who want to diversify their investment strategies and earn a higher yield than a traditional certificate of deposit, money market, or savings account.
In order to earn yield, you need to take calculated risks.
No FDIC Insurance
Stairs is not a bank and is not FDIC insured. Investments in Stairs notes are not a bank deposit.
Default Risk Of Real Estate Loans
While you are prefunding a pool of loans, it is possible one of those loans defaults before it completes crowdfunding.
You Are Exposed To The Credit Risk Of The Company
According to circulatory offering, "Promissory Notes are the full and unconditional obligations of the Company and are fully recourse to the Company's assets.
You will have a first priority security interest in all assets of the Company. However, the Promissory Notes may still be subject to non-payment by the Company in the event of our bankruptcy or insolvency. In an insolvency proceeding, there can be no assurances that you will recover the full amount of your investment in the Promissory Notes."
Alternatives To Stairs
There are not many alternatives in the non-accredited, asset-backed investing space.

However, the closest competitor is Worthy Bonds. Worthy bonds offers loans to small businesses backed by the assets of the company. The most significant difference I see is that with Stairs, you assume the pre-funding risk and not the risk that the loan holder could default.

Although it's technically possible the loan could default before it even is funded on GROUNDFLOOR's platform.
If you are an accredited investor, you could invest in Yield Street's short-term notes which are prefunding deals for a wide variety of alternative assets.
In addition, if you are interested in possibly earning a higher yield with a longer lock-up period, you should consider investing in GROUNDFLOOR notes.

Bottom Line: Is The Stairs App Worth It?
If you are interested in earning more yield than your typical savings account, money market, or CD, then Stairs could be right for you.
However, it's important to note that the additional yield does not come without risk, but it could be a good place to park some of your cash not invested in the stock market. I've been eyeing prefunding deals for a while, and finally decided to take the plunge.
Update: I've been using the app for 8 months now and have been happy so far. However, I have noticed the app is a bit glitchy sometimes – nothing too concerning from my end.
Have you invested in any pre-funding deals? What was your experience? Comment below and let the Real World Personal Finance audience know!