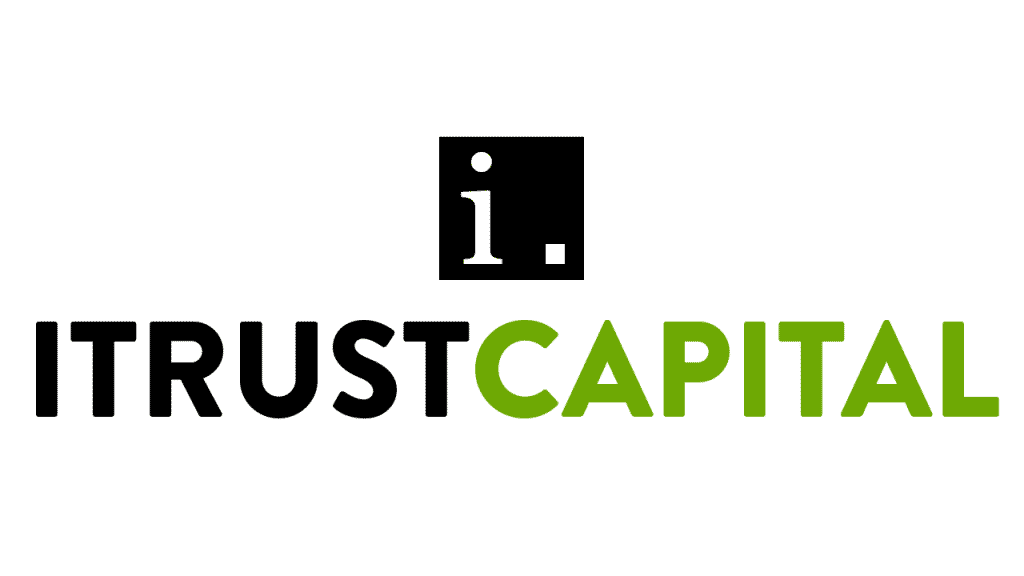 Quick Summary:
iTrustCapital is an IRA platform for cryptocurrency investing. The company provides you with all the tax advantages of an IRA account while having the ability to buy and sell cryptocurrency.
PROS
$1000 Minimum Investment
Transparent pricing
$100 referral bonus
CONS
A limited number of cryptocurrencies are available
You don't control the keys
At A Glance:
| | |
| --- | --- |
| Types of Retirement Accounts | Traditional, Roth, Sep, Simple, and inherited [IRAs] |
| Number of Cryptocurrencies supported | 29 |
| Account Opening Minimum | $1,000 |
| Security | Offline cold storage through Coinbase custody and Fireblocks |
| Types of orders | Market & Conditional for Cryptocurrencies |
Who Should Use iTrust Capital?
iTrustCapital is a wise option if you are serious about adding cryptocurrencies as part of your long-term investing & retirement strategy.
The tax advantages of IRA accounts make it an easy choice for crypto retirement account investing.
It's important to note that there are early withdrawal penalties before age 59 1/2, which are subject to being included in your gross income plus an additional 10 percent tax penalty.
But…
If you don't plan to invest in crypto long-term, you're probably better off using a traditional crypto brokerage like Coinbase.
What Is iTrust Capital?
ITrustCapital is an industry-leading crypto-based investment IRA platform. iTrust was created to fill the void between traditional retirement investing that permitted trading in assets like stocks and bonds and enable new-age investors to take advantage of the tax benefits of IRA accounts through cryptocurrency trading.
Founded in 2018 by Todd Southwick and Blake Skadron, repeat entrepreneurs, the company has processed over $4.5B in transaction volume.
The company recently completed US$125 million in Series A financing led by Left Lane Capital.
iTrust Capital is headquartered in Irvine, CA.
How Does iTrust Capital Work?
iTrust Capital allows individuals to trade cryptocurrencies and commodities through their Individual Retirement Accounts using their proprietary platform.
IRAs have been around for a long time, but many traditional brokers still only allow conventional investments like stocks and ETFs.
This is where iTrustCapital steps in.
If you want to invest in cryptocurrencies like Bitcoin using your IRA, you can do so through iTrust Capital with the same tax advantages IRAs have traditionally offered; tax-free trading and tax-deferred or tax-free gains. The maximum contribution limit is $6,000 annually for those aged 50 and under.
Cryptocurrency trading through Platforms like Coinbase only offers traditional brokerage accounts so you will be stuck with capital gains taxes.
What Is An IRA?
IRA stands for Individual Retirement Account.
An IRA is an individual retirement account that allows individuals to make tax-deferred investments to provide financial security when you retire. In 2022, the maximum contribution limit is $6,000. There are quite a few types of IRAs, but the most popular are Traditional and Roth IRAs.
Traditional IRA (in which you make tax-deductible contributions) or a Roth IRA (contributions are made on an after-tax basis, but distributions are tax-free).
Traditional and Roth IRAs can be opened without going through an employer.
Types of IRAs Offered
Cryptocurrency IRA
iTrustCapital'ss main feature is its cryptocurrency IRAs. With iTrust Capital, you can open a Traditional, Roth, Sep, Simple, and inherited [IRAs]. With a cryptocurrency IRA, you can buy and sell cryptocurrency in real-time, 24/7/365.
Precious Metals IRA
iTrust also offers a Precious metals IRA. Commodities, especially gold, can provide a safe hedge against inflation or volatile assets.
Unlike other IRAs, the iTrust Capital investment is primarily physical gold instead of futures or other financial instruments like bonds. iTrust invests in gold that is physically held at the Royal Canadian Mint.
Honestly, it seems odd that someone investing in crypto would hedge with precious metals, especially since this is a retirement account. I don't see many users actively opening a crypto IRA and then hedging it with a precious metals IRA. It kind of defeats the purpose of investing for the long term.
Cryptocurrencies Available
iTrust Capital offers trading in 29 cryptocurrencies, including Bitcoin, Chainlink, Solana, and UniSwap, to name a few. You can either place market orders (execution at the current market price) or conditional orders, which will only be executed when specified criteria are met, such as the price is above or below your specified criteria.
| | Tradeable Crypto Currencies | |
| --- | --- | --- |
| Bitcoin (BTC) | Ethereum (ETH) | Cardano (ADA) |
| Chainlink (LINK) | Polkadot (DOT) | Litecoin (LTC) |
| Dogecoin (DOGE) | Bitcoin Cash (BCH) | Stellar (XLM) |
| EOS (EOS) | Uniswap (UNI) | Compound (COMP) |
| Sushi (SUSHI) | Yearn. finance (YFI) | Polygon – Matic (MATIC) |
| Aave (AAVE) | Solana (SOL) | Curve DAO (CRV) |
| Basic Attention (BAT) | Enjin (ENJ) | Algorand (ALGO) |
| Cosmos (ATOM) | Tezos (XTZ) | Maker (MKR) |
| Shiba Inu (SHIB) | Decentraland (MANA) | |
iTrust is constantly evaluating new cryptos to add to its platform. The primary consideration is whether the currency is supported by its vendors and partners. While the crypto brokerages tend to offer more currencies, you will likely see a more limited selection of coins through IRA accounts.
Pricing & Fees
iTrust Capital's only fee is 1% for buying or selling cryptocurrency. iTrustCapital does not have a monthly, yearly, or maintenance fee. $50 over spot per ounce for gold and $2.50 over spot per ounce for Silver.
In general, iTrust's fees are reasonable.
Cryptocurrencies, in general, have a complicated fee structure. For reference, Coinbase and Gemini usually have flat trade rates between $1 and $2, with 2% percentage fees.
Other Fees: There is a onetime conversion fee of $75 to convert a Traditional IRA to a SEP IRA or Roth IRA. This conversion will incur a taxable event
| | |
| --- | --- |
| Trading Fee | 1% for Cryptocurrencies |
| Maintenance Fees | None |
| Monthly Fees | None |
| Gold | $50 over spot per ounce |
| Silver | $2.50 over spot per ounce |
| Other Fee | $75 to convert your IRA |
How To Open An Account
Opening an account with iTrustCapital is straightforward. Plus, they make easy-to-follow videos for those who don't like reading.
Step 1. Create an account, and you will be asked to complete the usual details such as name, address, and DOB.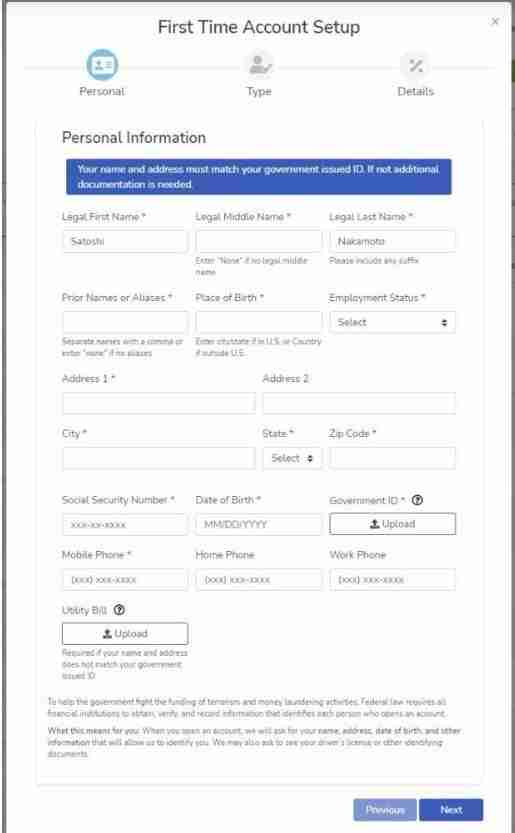 Step 2. Select your IRA type (Traditional, Roth, Sep, Inherited) and how it will be funded.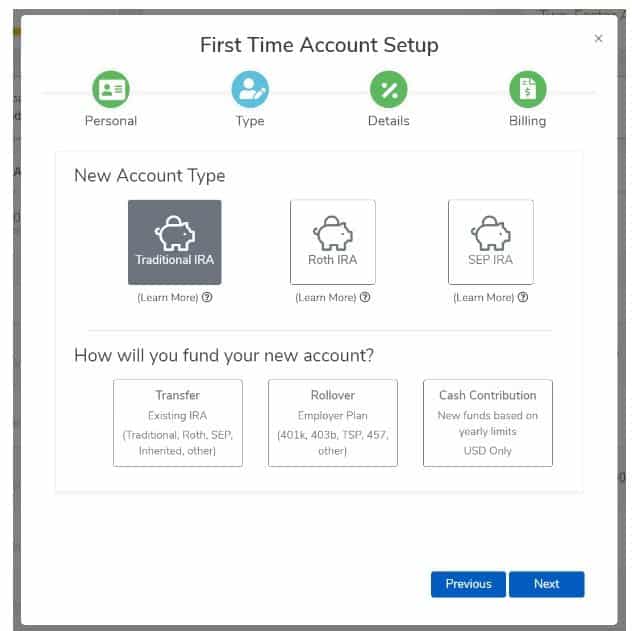 Step 3. Submit for Processing.
After that, iTrustCapital will email you if they have any questions while reviewing your application.
Once in good order, the processing team will email you to DocuSign your application.
That's it.
Funding Instructions Will be Emailed to You After Your IRA has been Opened.
With iTrustCapital, you can fund your account 3 ways:
Rollover of an employer plan
Transfer of an existing IRA
Contribution of new funds
Lastly, if you have any questions or need help, iTrustCapital has a dedicated team to assist with onboarding.
Is My Account Safe & Secure?
TrustCapital works with Coinbase Custody and Fireblocks to secure client assets in institutional storage. Both companies are SOC 2 Type II Certified, implement offline cold storage and multi-party computing solutions, and carry their own insurance policy.
Fireblocks
Fireblocks is SOC 2 Type II Certified. The company has a multi-layered approach to security, eliminating single points of failure. The company carries a $42 million insurance policy.
Coinbase Custody
Coinbase Custody is an independently-capitalized entity from Coinbase.com, which follows different asset storage protocols. . All digital assets are segregated and held in trust for the benefit of their clients. The company is SOC 2 Type II certified and carries a $320 million insurance policy.
Is iTrust Capital Legit?
At first, I was a bit skeptical about iTrustCapital too. I'd never heard of the company before until I saw a commercial on tv recently. After that, I did a bit of research on the company, and the company is legit. They are registered with the SEC and received $125 million in series A funding from Left Lane Capital.
Alternatives To iTrust Capital
As crypto investing becomes more mainstream, more and more crypto-focused IRA platforms appear almost monthly. iTrustCapital's largest competitor is Alto and RocketDollar. Some other sites compare iTrust to a brokerage like Coinbase, but Coinbase does not offer IRA investing through their platform.
That said, let's take a look at other platforms that offer crypto IRAs.
Feature
Overall Rating
Monthly Fee
None
$10-$25/mo
$15-30/mo
Onetime Setup Fee
None
$0
$360
Minimum Investment
$1,000
$10/crypto
$50/alternatives
Varies
Types of Accounts
IRAs
IRAs
IRAs, Solo 401K
Coins/Tokens on the Platform
29
150+
Types of Investors
Open to all investors
Open to all investors
Open to all investors
Open An Account
Read Review
None
Is iTrustCapital Worth It?
If you are serious about adding cryptocurrencies as part of your long-term investing strategy, then yes, opening a crypto IRA through iTrustCapital is worth it. You can take advantage of the tax advantages of IRA accounts while investing in a new, albeit volatile, asset class. Their low $1,000 minimum deposit and 1% transaction fee make their platform transparent with low barriers to entry.
Does iTrust Capital Offer Staking?
According to their website, iTrust Capital staking services are currently developing. Staking is expected to go live in 2022.