YieldStreet vs. Fundrise: Which Investment Platform Delivers Higher Yields and Greater Investor Returns?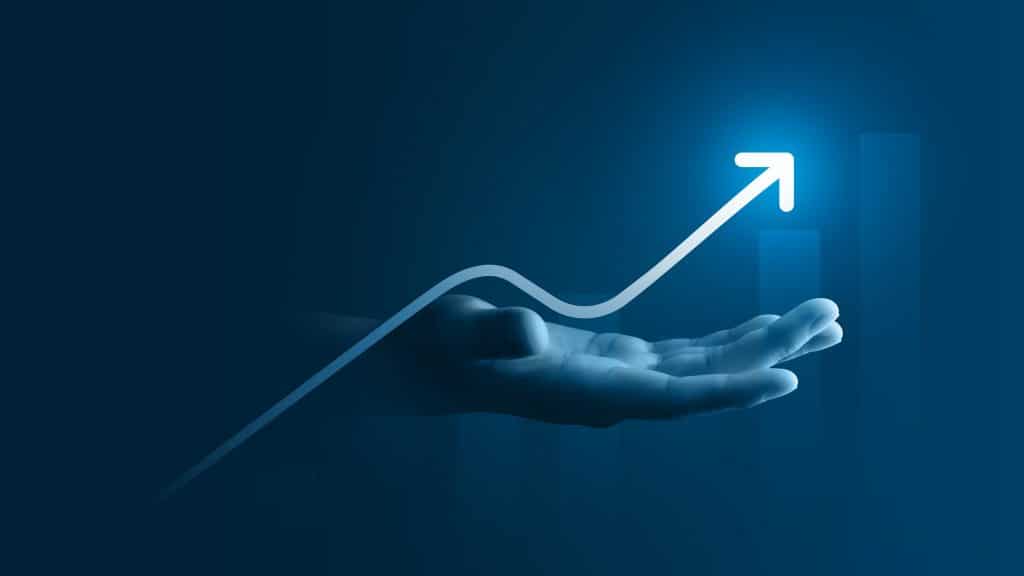 At a Glance:
An alternative investment platform for accredited and non-accredited investors that enables them to invest in alts such as real estate, art, and legal finance

Real estate investment platform that offers a wide variety of REITs and Funds with varying strategies and property types

Alternative investments

Art

Real estate debt

Multi-family

Comercial REITs

Interval funds
Who should use these platforms?
Yieldstreet is a good option for…
Individuals interested in added nonstock market correlated alternative investments to their asset allocation strategy.
Fundrise is a good option for…
Non-accredited investors interested in investing in non-publicly traded real estate with an investment horizon of at least 5 years.
PROs and CONs
Yieldstreet
PROS
Less than 10% of investment opportunities have made it onto the platform
Wide range of alternative investment options
Low stock market correlation
CONS
Most individual investments are open only to accredited investors only (1except the prism fund)
Limited liquidity options
Fundrise
PROS
$10 minimum investment
Investor goals and tools
Wide range of real estate investment options
CONS
Limited liquidity
No investment options outside of real estate
What is Yieldstreet?
Yieldstreet is a crowdfunding platform that specializes in collateralized alternative investments. Alternative investments typically have a low correlation to stock market movement.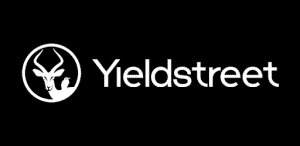 Yieldstreet primarily caters to accredited investors who want to invest in alternative asset classes such as Art, Commercial, Consumer, Litigation Financing, Real Estate, and Corporate. All loans on Yieldstreet's platform are asset-based, which means they are secured by collateral, providing a way to recoup your investment in the case of a default.
Founded in 2014 by Milind Mehere and Michael Weisz, a strong duo who collectively have extensive experience in entrepreneurship and alternative investing.
Since its inception, Yieldstreet has funded over $4 billion in investments and boasts over 400,000 registered users.
The company is headquartered in New York City.
Read our entire Yieldstreet Review
What is Fundrise?
Established in 2010, Fundrise is the oldest real estate crowdfunding platform. Fundrise offers people an alternative option to investing in commercial real estate through its eREITs and eFunds without the stress and costs of traditional real estate investing.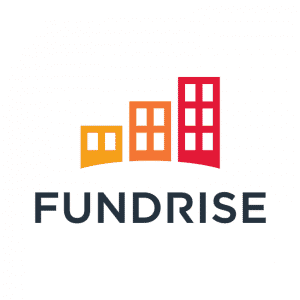 In its latest foray, Fundrise has recently started to branch out of real estate through the launching of its Innovation Fund. Launched in mid-2022, the Innovation Fund invests in late-stage private technology companies and some public equities.
Fundrise boasts a wide variety of investment options and strategies, goal planning features, and a user-friendly investment dashboard.
More than 300,000 people use Fundrise today and have invested over $7 billion in properties throughout the U.S. Fundrise has had 21 consecutive quarters of returns, averaging 22.99% in 2021.
Fundrise is based in Washington, DC, and was founded by Ben Miller, who has over 20 years of experience in the real estate industry.
Read our full Fundrise Review.
How does investing with Yieldstreet work?
Below we'll go through how Yieldstreet works; from opening an account to selecting an investment.
1. Open your account
Once your Yieldstreet account is opened, you can view all open and some recently closed investments. After investments pass a thorough due diligence process, they are listed on the Yieldstreet platform for investing.
2. Review Investment Options
Investment details include the investment premise, expected returns, and fees, to name a few. You can also view metrics such as strategy, minimum investment, asset class, and if the investment is IRA eligible. Individual investments have a minimum investment of $10,000.
However, individual investments are only open to accredited investors. Still, non-accredited investors can always invest in the Yieldstreet Prism Fund, which has a minimum investment of $500 and is invested across 5+ alternative asset classes. It provides quarterly distributions and liquidity options.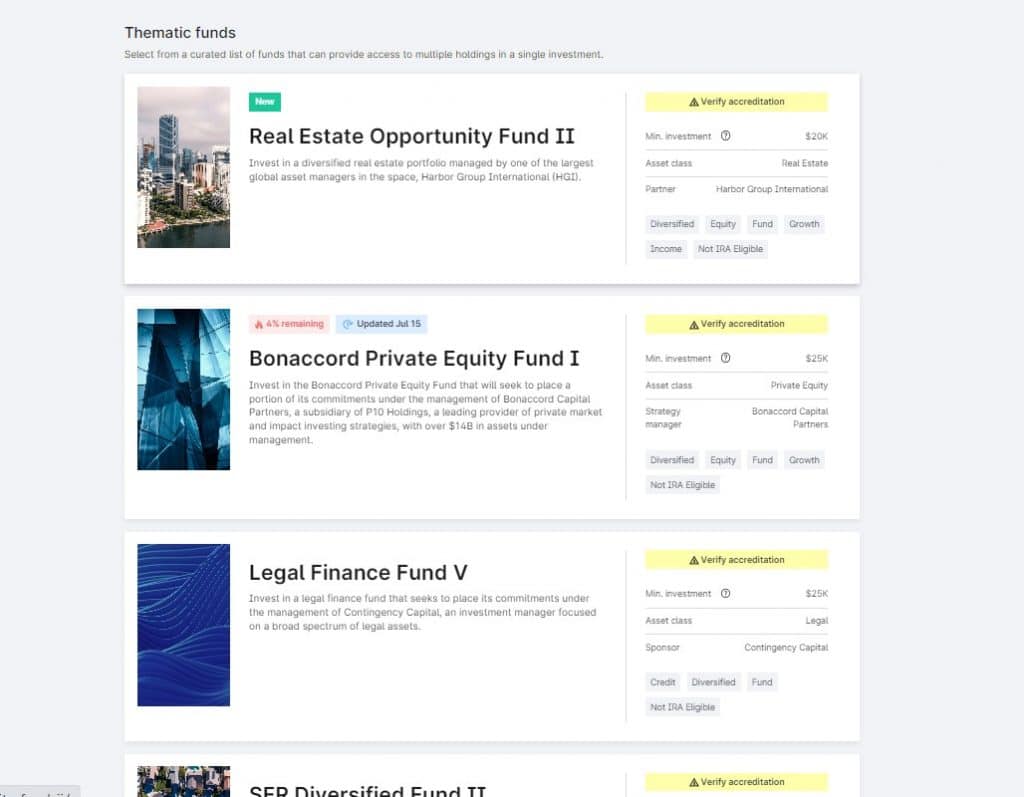 How does investing with Fundrise work?
With Fundrise, you are investing in either Fundrise eREITs or eFunds with a minimum investment of just $10.
eREITs and eFunds comprise a basket of non-traded real estate properties, from multifamily apartments to industrial complexes. The eREITs and eFunds aim to seek a combination of dividend distribution and capital appreciation, depending on the strategy.
When you open an account with Fundrise, they offer a wide range of account levels; Basic accounts require a minimum investment of $10, and its Advanced Portfolio requires a minimum investment of $10,000. The premium level is reserved for accredited investors only, with a minimum investment of $100,000.
However, Fundrise's most popular account is its 'Core' portfolio, which has the most investment options and features. A Core account requires a minimum investment of $5,000.
You can create a customized investment strategy at the Core account level and above. Investors can customize their portfolio by diversifying across a wider variety of funds with specific objectives, such as income, growth, and balanced.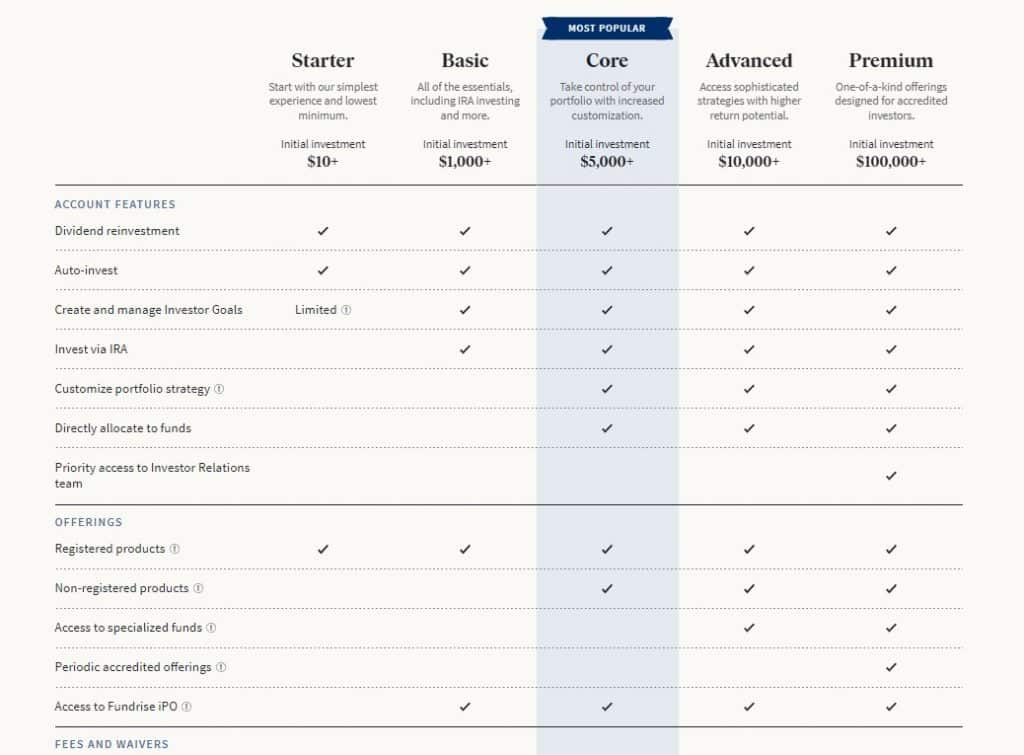 Head-to-Head Comparison
In this Yieldstreet vs. Fundrise review, we will look closely at a few categories, including investment options, returns, fees, user experience, and much more.
Investment options
Winner: Fundrise
Yieldstreet offers a broader range of investment options compared to Fundrise, however, you need to be an accredited investor to access most of Yieldstreet's investment offerings.
Not only does Yieldstreet offer real estate investing like Fundrise, but you can also get instant diversification by investing in their Prism Fund, which invests across 8 alternative asset classes, including real estate. The Yieldstreet Prism fund is open to non-accredited investors with a minimum investment of $5,000.
In reality, though, Fundrise is a real estate investment platform, and Yieldstreet is an alternative investing platform. Alternative investing can span many products, including art, private credit, litigation financing, and real estate.
While Fundrise does not offer many investment options outside of real estate except for its Innovation Fund, they have a wide variety of real estate eREITs and eFunds to choose from.
At the same time, Yieldstreet also offers a wide range of investment options in the alternative investment space.
Therefore, Fundrise and Yieldstreet have a respectable number of options for their respective specialty.
Yieldstreet Investment Options
Yieldstreet offers 3 types of investments to its users:
Individual investments (available to accredited investors only) and minimum investment starts at $10,000,
Prism Fund (Open to all investors) with a minimum investment of $5,000
Short Term Notes (accredited investors only) with a minimum investment of $1,000.
Yieldstreet boasts a truly diverse range of alternative investments across multiple asset classes throughout the capital stack. Some of their strategies include income, growth, and balanced.
Some of Yieldstreet's most popular investment options include:
Prism Fund (invested across most asset classes offered by Yieldstreet)
Real Estate (Income and Growth strategies)
Private Credit
Litigation Financing (Cash advances on future litigation claims)
Fundrise Investment Options
Fundrise investment options primarily focus on real estate investing across the capital stack, except for its newly launched Innovation Fund. Fundrise has 11 active eREITs and 2 eFunds. Like Yieldstreet, Fundrise strategies range from income generation to growth, with varying degrees of risk.
Returns
Winner: Fundrise
Yieldstreet returned 9.66% IRR (Internal Rate of Return), net of fees since 2015. Meanwhile, Fundrise returned 11.58% net of fees across all clients since 2017.
So Fundrise has better returns than Yieldstreet. However, Fundrise does not advertise its returns before 2017, so we are comparing returns between Yieldstreet and Fundrise during different periods, so take that with a grain of salt.
Yieldstreet returns: 9.66% IRR since 2015
Fundrise: 11.58% since 2014
And while total returns are important, risk and return are correlated. The higher an investment is in the capital stack, meaning the riskier it is, the more likely the returns will be greater(think equity investments). And conversely, the lower an investment is in the capital stack (debt investment), the lower the risk and the corresponding returns will be. Many Fundrise and Yieldstreet investments invest across the entire capital stack.
As a discerning investor, it's critical to understand that risk and return are generally correlated before investing.
Fees
Winner: Tie
Yieldstreet charges a management fee between 1 – 4%, depending on the investment. All targeted returns listed by Yieldstreet are quoted net of listing and management fees, but not the flat rate annual expenses. The flat rate annual expense fee is charged on each investment and is deducted from your first interest distribution; this fee varies per investment and is applicable for each investment. There are no fees to sign-up for the Yieldstreet platform.
I wish Yieldstreet was a little bit clearer that the returns are net of management fees but not the flat rate annual expenses, I find this a little misleading and could easily be misunderstood. While it's listed in the offering documents, I'm sure plenty of individuals overlook the flat rate expenses.
Meanwhile, Fundrise charges a 1% management fee per year, comprising a 0.85% management fee and a 0.15% advisory fee.
The management fee is used for investment allocation and advisory oversight of their real estate projects. The advisory fee is used to reimburse Fundrise for expenses related to building its platform e.g. customized client performance reporting and customer support and investor relations.
It's also worth noting that depending on the investment, additional fees are often buried in the offering circular that Fundrise does not advertise. All returns quoted by Fundrise are net of fees.
Yieldstreet fees: 1-4%, depending on the investment + flat rate annual expense (which varies per investment)
Fundrise fees: 1% of AUM (0.85% management fee + 0.15% advisory fee)
User Experience
Winner: Yieldstreet
Both Yieldstreet and Fundrise have a modern website and investment platform making it easy to sign-up, browse investments, and manage your portfolio.
Yieldstreet and Fundrise offer a mobile app for download in the Apple App Store and Google Play.
Yieldstreet's incredibly well-designed interface shows you a summary of your Yieldstreet investments and their performance. You can also view your total amount invested on Yieldstreet and any accrued interest that has not been paid.
Interestingly, if any of your investments are in default, you will also see the total accrued interest and principal outstanding broken out separately for such investments.
Other Features and Benefits
Outside of investing, Yieldstreet offers an FDIC-insured checking account called Yieldstreet Wallet. The Yieldstreet wallet earns 3% annual interest on funds held, and your wallet is automatically created when you set up your investor account.
Meanwhile, if you invest $1,000 or more with Fundrise, you have the opportunity to buy an ownership stake in Fundrise, the company itself, the Fundrise iPO. Furthermore, if you refer others who sign-up and invest with Fundrise, you can earn bonus shares between $25 and 100 per referral.
Yieldstreet other benefits: FDIC-Insured High Yield Checking Account
Fundrise other benefits: Ability to invest in the Fundrise iPO and $25 – $100 referral bonuses.
The Bottom Line
If you are more interested in strictly real estate investing, Fundrise is a better option. However, if you want to invest in alternative assets with non-correlated returns outside of real estate, Yieldstreet is a better option.
But, Yieldstreet primarily caters to accredited investors except for its Prism Fund, so it's important to note that before investing. Meanwhile, Fundrise focuses on non-accredited investors with lower minimum investments.
Either way, both Yieldstreet and Fundrise are legitimate investing platforms that have been around for many years. Both platforms offer an excellent alternative to investing outside publicly traded stocks, ETFs, and bonds.